The Best Portable Grills for Camping And Tailgating
Because you can't lug your backyard grill with you to the stadium.
by Berne Broudy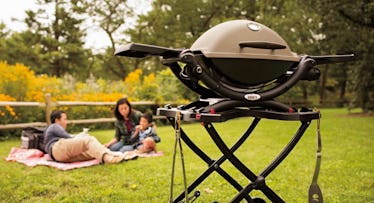 There's nothing wrong with a smart grill that can hickory the hell out of a pair of pork shoulders for eight hours until they're glistening and collapse-off-the-bone tender. But you can't exactly pack that bad boy up and take it with you tailgating to the stadium, or camping in the woods. That's why you'd be wise to invest in a portable grill. While the category probably bring to mind flimsy grates and little searing power, many of the latest models are light, powerful, and more than capable of coddling your barbecue. To help you out, we tested the latest and arrived at these selections. Not only are they able to travel wherever your team takes you, but they don't sacrifice the burger- and Sabrett-searing power you'll need when you arrive.
RELATED: The Best Gas Grills & Grill Accessories You Need To Cook Every Meal In The Backyard
Coleman Road Trip X-Cursion Propane Grill
All-terrain wheels and scissoring steel legs help this grill roll out of your RV and set up with a single click. A push-button ignition fires up the pair of 20,000 BTU burners, while the portable grill's large surface can hold enough brats and burgers for your entire alumni club. Swap the grilling grate for a griddle or stove grate (sold separately) if you want to diversify your cooking options. A removable grease pan made clean up easy.
Primus Kamoto Open Firepit
Not only does the Primus' Open Firepit grill up those dogs good, it'll also make you feel like you're sitting around a campfire. This 13-pound foldable steel wood-burning firepit comes with a cooking grate that holds up to 10 medium-sized burgers. But it's more than a meat-searer: remove the cooking grate, and you can toast as many marshmallows on sticks as your crew can manage. An integrated ash pan keeps embers from igniting trash on the ground and means your grill won't leave a smudge once you've loaded everything back in the truck.
Weber Q1200
The cast iron Q1200 packs the guts of a full-sized gas grill in a portable tabletop package. Light the Q1200 with a built-in battery-operated igniter and its 8500 BTU burner throws even heat across the medium sized grilling surface. An on-lid thermometer displays temperature, while two handy side tables hold a tray of grillables, flipper, tongs, and hydration for the chef. The 30-pound Q1200 runs off disposable LP cylinders but if you're setting up for multiple days of grilling spring for a $20 adapter that will let you use a standard propane tank.
Camp Chef Tailgater Combo
The Tailgater Combo provides every imaginable cooking surface in a foldable, modular package. The portable grill features two cast aluminum burners that throw out an impressive 30,000BTU. Despite that power, the heat is easy to regulate. Place the cast-iron griddle on top of a burner, and you can make eggs and bacon for an entire team; place the BBQ box on a burner, and you've turned this camp stove on steroids into a steak-searing machine that converts flame into infrared heat. For packing and storage, the 36-pound stove's legs collapse faster than the Falcons' Super Bowl dreams.
Biolite BaseCamp
Okay, admittedly the Biolite Basecamp is a little more woods than parking lot, but it'll get the job done ⏤ and save space to boot. The Biolite portable grill actually takes the heat from burning wood and converts it to electricity. That electricity powers a fan to further fuel wood combustion and help you cook up to eight burgers at a time. (It also charges a 5W lithium ion battery that can juice your cell phone or tablet and powers a gooseneck LED light to illuminate nighttime food prep.) A flick of a switch turns the grilling flame into a burner flame suitable for boiling or egg-cooking and it does all this without fossil fuels. Foldable legs keep the unit off the ground, and an ash tray prevents the Basecamp from leaving a charred spot behind.
This article was originally published on