The Best Pickup Trucks for Every Type of Driver
Five rides worthy of hauling your family — and your payload.
by Michael Frank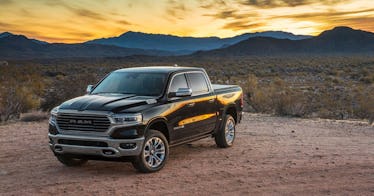 Fair warning, fans of plaid, bushy bearded hipsters, hunters and fishers and workmen of any stripe, this list of pickup trucks might look a lot different in about six months. That's because, despite the "rise of the crossover" and the fall of sedans, based on sales circa the end of September, the pickup remains the preeminent form of four-wheel transportation in America.
So why will this list look different come, say, next June?
Because we anticipate not one, but possibly two major players launching new mid-size trucks. One that's certain is, finally, a new Ford Ranger. One that's almost certain is a Jeep pickup based on the Wrangler. It's also possible Nissan will finally update their ancient Frontier, and that VW will drop its own pickup based on the Atlas-body concept they showed at last year's New York Auto Show.
Time will tell. But if you need a pickup truck now, these are the ones to buy and that will remain worthy when those other releases come out. Note that these are inclusive, rather than exclusive listings. By that, we mean this the best truck for a dad who mostly drives on the highway, not one that only works for Interstate travel. Because every truck here is a Leatherman-like multi-tool. It's good-to-great at doing a lot of tasks. We're just calling out where our tests have shown each rig shines most brightly. Here are our favorites.
Best Pickup Truck for Highway Drivers: Honda Ridgeline
The dirty secret about pickups is that, for the most part they're set up to drive better when loaded up. Because its based on a car- rather than truck-chassis, the Ridgeline is the only truck on our list that drives great empty. It's less of a pickup and more of an SUV that's missing a lid over the third-row passenger space.
As a result it rips to 60mph in 6.4 seconds, but gets a fairly frugal (for this genre of vehicle, at least) 21 average fuel economy for the AWD version. It's car-quiet inside and it's clever, too, with a bi-folding tailgate that either swings out like a door or directly downward like, well, a pickup. Good thing, too, because the 5.5-foot bed isn't long enough for some loads, so you'll need to option the bed extender that lets you haul seven-foot-long cargo. Note: That bed does feature an 82-quart trunk, right ahead of the tailgate.It's not only useful for segregating your kids' wet swim gear or hockey pads after practice, it also doubles as a cooler for tailgating.
The Ridgeline rides like a car because that's mostly what it is. Meaning it's not a Jeep, with only 7.8 inches of ground clearance and has no low range, etc. Also, it's not a big payload beast, maxing out at 1,500 pounds and only 5,000 pounds of towing. But if you want a truck for Sunday chores that don't involve hauling a horse trailer and would like a smoother ride and better fuel economy, this is the best option.
Best Pickup Truck for Off-Road Assaults: Chevy Colorado ZR2 V-6 Diesel
Wait, a diesel mid-size pickup? Yep. And we know you're either thinking one of two things: 1. That's awesome. 2. Wait, why again? Here's why. Diesel means much better fuel economy and range. And if we're talking about driving on dirt, it also means immediate torque with very little throttle. Torque is your very best friend for off-roading, and even if driving on dirt just means getting up a muddy or snowy driveway fetching your kids on runs to-and-from school, having 369 churning foot-pounds at a very low 2,000rpm means your driveway won't be as chewed up and you'll have way more control.
Add in locking differentials at both axles and a wheelbase that's 3.5 inches wider than a standard Colorado and rims shod with big, 31-inch Goodyear Wrangler DuraTrac rubber, and you have a truck that's exceptionally capable on just about any terrain you're likely to want to drive to, and that might include 4x4ing the family to a campsite way beyond the reach of a typical fire road.
There's also a hidden attribute that Chevy engineers sweated ultra hard: They wanted to make an off-road truck that handled easily on pavement. To make that possible only the ZR2 truck gets unique, oil-filled dampers with external reservoirs. This allows them to blow through their travel as needed, rather than rebounding harshly, and this system is tuned for both high- and low-speed bumps. What that means is that Chevy engineered the system to handle both a pothole at 45mph or a sinkhole at 2mph. In both cases the truck feels remarkably civilized.
Still, second-row legroom isn't astonishing, more like that a compact car. It's fine for pre-teens, but if your kids are still in a carseat the wrestling match in and out of a lifted truck might become a chore.
Best Pickup Trick for Going Full Sized Without Going Full Price: Crew-Cab Ram 1500
There are a few reasons we like the Ram over rivals like the F-150. One is that at a fairly sane base price you already get a lot of truck, because it has a class-exclusive rear suspension that makes it ride more smoothly with a payload and without one. Another is Ram's exclusive-in-the-segment 48-volt electrical hybrid system, which allows both stop-start ignition at stoplights, so you're not burning gas while idling, and can add up to 90 lb.-ft. of torque to the V-6 and up to 130 lb.-ft. to the HEMI V-8.
We also really dig Ram's interiors. First, the UConnect system, which is the radio, navigation, Android Auto/ Apple CarPlay, as well as climate control, all just works. You don't have to be a brain surgeon to figure it out, there's an actual knob for volume and station tuning and all of the options are intuitive. (If more carmakers would understand that we need instrumentation that allows us to keep our eyes on the road we'd all be safer drivers.)
Rams are also quiet. They're built to be. They get active grille shutters that prevents air penetration at the nose, so they're slippery through the wind, and in the cabin there's active noise canceling via the sound system (think: Bose headphones sans actual headphones), so you hear less ambient road rumble. Got a napping kid in the back? They'll stay that way.
Now, if you want yours more hard core, you can now get a 4×4 Off-road Package for almost any 1500 version, which includes a one-inch lift, four-corner air suspension, a locking differential at the rear and 32-inch rubber.
Naturally, like every full-sized pickup in America, you can configure a Ram with myriad bed lengths and cabin options. We like the Crew Cab for families because the back seat space is massive, as large as the passenger space of most full-sized SUVs' second and third rows, and that makes it easier to deal with both carseats and with warring teens who want to sit miles apart. In a Ram, they will.
Best Pickup Truck For Towing In Comfort: GMC Sierra 2500HD
If you keep seeing that word "comfort", it's because we put a priority on being at home behind the wheel. And if you want to own a truck but are going to be using it to shuttle kids, having a smooth ride is going to matter. No seasick children, please!
Meanwhile, we'll grant that the Sierra 2500HD is overkill if you just want an everyday rig for fetching groceries — or even for backyard projects like building a shed. With a 10,000-pound payload when you get the 6.6-liter Duramax diesel and 13,000 pounds trailering, this beast was meant to haul and tow, not to loaf around empty. (Still, laden or unladen, you still have the benefit of 445hp and a pavement-scarring 910 lb-ft of torque.)
The bonus is that when you're not steering straight, the Sierra 2500HD is easy to drive, even in delicate situations like parking lots. While a lot of trucks can feel unnervingly disconnected from the pavement, The GMC is a gentle giant, a truck that actually shrinks around its driver, and is easily placed on the road. That's important when you're wielding something that weighs north of 6,000 pounds.
Note that with ten cupholders, power outlets everywhere, and more room than just about any truck in this class (save the Ford F-250 King Ranch SuperCrew), the Sierra 2500HD is a comfortable business-class environment, and it's functional, too, with rear seat bottoms that split 60/40, giving you a lot of extra room for your gear—handy when you can't use the bed because of weather. But don't bother with the Denali upgrade. It gets expensive fast, and it's more garish than premium.
Best Pickup Truck For Actual Work: Toyota Tundra
Here's the honest truth about the Texas-built Tundra: It's old. That may change as early as this time next year, when we expect Toyota to debut an all-new Tundra, so think about the current Tundra as a good new or used option. Why? Because it's Consumer Reports' highest-rated full-sized pickup for reliability. Also, the Tundra holds its resale value, so even if you buy one used you won't lose as much when it's time to trade it in.
As for the ownership experience, as a work truck it's a good pack animal. Get one with the TRD Off-Road package, not necessarily for off-roading, but because the upgraded suspension handles on-road imperfections better than the stock truck. The CrewMax version also has more rear seat legroom than any truck in its class, save the Ford F-150 SuperCrew (which doesn't hold its value or get the reliability scores the Toyota garners). Eleven cupholders mean there are plenty of places for your kids to park their toys as well as their drinks, and the rear seat area of the CrewMax is more capacious than any other truck in its class. As a work truck, that means more room for anything from tool boxes to compound miter saws to ShopVacs.
Yes, ideally that goes in the bed, but you might have no choice but to put it in the cabin when you're also carrying payload out back. And one positive there is that the 2018 Tundra has the largest-volume box in the business vs. competing 2018s. Meaning? Theirs is deeper than standard, whether you get the 5.5-foot, 6.5 or 8.1-foot. That's good not only for keeping taller stacks of four-by-eight-foot sheets of plywood stable, but if you're hauling dirt, bags of ready-mix concrete, etc.
One ding: Fuel economy. Tundra's 5.7-liter V-8 is no slouch, but it mainlines gas, yielding only 15mpg combined. Most full-sized trucks aren't great on gas, mind you, but the Ram 1500 is far more frugal, and one change we hope to see from Toyota going forward with the Tundra is hybridization. They lead the world in this regard with their cars and crossovers and it's time they lead in trucks, too.
This article was originally published on