7 Rad New Family Rides From the New York Auto Show
Is that a seven-seat Subaru?
by Michael Frank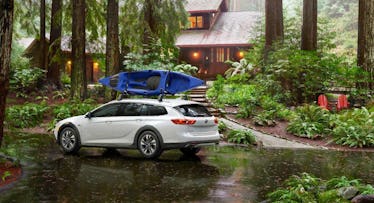 The New York Auto Show should be a yawner. It takes place in April, a full eight months after auto show season begins, and you wouldn't expect carmakers to spend it sweating cool concepts or ridiculous reveals. But they do. And when it comes to family rides, this year was no different. We saw bigger, more luxurious SUVs (designed to compete with minivans), the renaissance of the once maligned station wagon were the name of the game, and a host of family-haulers that don't skimp on the luxuries. Here are seven of the most notable ones we saw.
Toyota FT-4X
It looks like the result of a one-night stand between an FJ Cruiser with a Scion and is aimed at folks who like the outdoors but mostly exist inside. The FT-4X, Toyota's latest rugged luxury SUV, is a well-formed partial idea. As it's a full foot shorter than the RAV4, it's theoretically more maneuverable and the standard 4WD gives it some decent cred. Interesting touches abound: a rubberized interior easily washes off dirt, mud, and spit-up, dozens of tie-downs make strapping in gear easy, and a brainy trunk provides both horizontal and vertical entry with the twist of a chunky handle. The FT-4X is a concept, yes, but as that name stands for Future Toyota Four-Wheel-Drive Crossover and rumor circulating that it's nearly 75-percent production ready, it could be on roads sooner rather than later.
Subaru Ascent Concept
Don't let the word "concept" in the title make you think the Ascent is vaporware: Suburu's big return to, well, big SUVs will hit production by 2018. The three-row crossover is a follow up to the discontinued Tribeca and features a 2.4 liter turbocharged four-cylinder and standard AWD. Inside, you'll find captain-style chairs, touch-sensitive window switches and a big center touchscreen, and panoramic moonroof. Early estimates put the price around $35,000.
Acura MDX Sport Hybrid
Like Volvo with its XC90, Acura is making its biggest and most powerful seven-seat SUV a hybrid. Which means this family ride will boast 321HP and get 27mpg in the city. It's important to save the planet for the kids, right? The AWD MDX will have a 3.0-liter V-6 engine plus three electric motors, a second-row center console, and wood interior accents. It hits roads this summer and will run a cool $52,935 for the base model.
VW Atlas
The Atlas is aptly named — from just about every angle, it looks as if it's been deadlifting another SUV. This new Volkswagen is more than just a pretty face and muscular exterior, though; it seats seven and is slated to be Volkswagen largest SUV to date. While the Atlas is big, it's built on the VW Golf platform and reportedly corners, brakes, and handles parking-lot gymnastics more nimbly than, say, a truck-based crossover. That's what VW means when the company says it drives "German." Front-wheel drive comes standard (AWD is an upgrade), as does a six-year/72,000-mile warranty on driveline, transmission, and engines systems. Not only that but at $31,245, it's a genuine steal. What emissions scandal?
Buick Regal Regal TourX
Wagons are suddenly the "indie" car, and every car manufacturer is adding them to the lineup. The reasoning is smart: Wagons drive like cars but offer the utility of SUVs. Also, they're sexier than an SUV (admit it). Now Buick wants a piece of the wagon wheel and has targeted Subaru Outback customers with the TourX. It rocks a 2.0-liter turbocharged four-cylinder engine that produces 250HP, offers comparable storage space, and comes standard with all-wheel drive. Expect the price to start in the mid-$30k range when the TourX debuts later this year.
Range Rover Velar
Land Rover and Jaguar share technologies and this is a high-end version of the new F-Pace SUV from Jaguar. Meaning: it will be more athletic than most Range Rovers and also more road focused. And it will be a lot more upscale than any Jag. Think of the five-passenger Velar as the happy middle between the all-new Range Rover Discovery (that comfortably seats seven) and the Range Rover Evoque and Sport. It's not cheap — the price will start at $50,000 — but it is beautiful: sleek, but not trying to look like a tall sports car, and muscular, but not bulky. And it will go on sale this October.
Nissan Rogue Trail Warrior Project
Nissan's treaded-out SUV's never going to happen. But if you're going to view a concept, wouldn't you rather see a company go all out on an apocalypse ready monster than some mere crossover? We sure would. Nissan created the Trail Warrior (much like it did the X-Trail 4Dogs) to generate buzz for its recently rebooted Rogue five-passenger crossover, and clearly it's working. Interestingly, adding 48-inch-long, 30-inch-high tracks didn't even require Nissan to alter the drivetrain, although they did stiffen the suspension.