The Best Cars To Lease For Under $200 A Month Right Now
Because hand-me-downs are for your kids' clothes, not your ride.
by Vince Steveson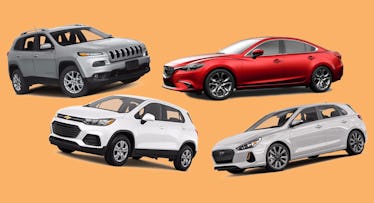 As your family grows, your life needs change. More often than not, that means having to rethink your choice of car. Adding kids to the roster of passengers is just one growing pain. Where your late-model coupe used to suffice, you now have to consider storage space for strollers and car seats, as well as the associated activities and planned vacations. Maybe it's time to consider leasing a car.
RELATED: The Best New SUV For Every Kind of Dad
For families ⏤ growing families, in particular ⏤ it can make a lot of sense. You need only come up with an initial down payment, maintenance is hassle-free, and you get to drive some of the best (and safest) cars on the road for dollars per day. It's not a bad deal. Plus, you can choose a car based on your needs now, and not be locked into a depreciating asset in a couple years' time. As your family's size grows, your car can adjust with it.
Better still, there are a lot of great sedans, SUVs, and crossovers currently available for less than $200 per month (that's about $7 a day); we're talking family-friendly vehicles like the Hyundai Tucson, Chevrolet Trax, or Mazda6 that feature crash-avoidance systems, rear-view cameras, and even seating for seven.
ALSO: The Best New Cars Under $27,000 For Big Families
But which ones are worth the money? Just because a car lease falls within your budget, doesn't always make it a wise choice with kids. That's why we've scoured the advertised specials from all major auto manufacturers, combed through the details, and prepared this list of the best ones for your family. The vehicles listed below are the latest model year, when possible, either 2017 or 2018 models.
Just take note: The car lease deals listed here are the advertised specials from each auto manufacturer, most often a national offer. They don't include taxes or fees, which contribute to a slightly higher bottom line. But don't be afraid to haggle. You could walk out the door with a lower monthly payment and/or without having put anything down.
Similarly, it's also important to remember the same basic principles of car buying still apply. Try as many different cars as you want before settling on a dealership. Drive them in familiar settings. Then, brush up on terminology like "due at signing" (the down payment plus applicable fees), and the nuances of lease terms (how many months). Those are usually fungible parts of the deal, depending on the salesperson's mood and drive to move merchandise. Got it? Good. Now, onto the best cars to lease for under $200 a month..
2017 Chevrolet Trax
Monthly lease payment: $189
Due at signing: $3,759Term: 39 months
Think of the Chevy Trax as a minimalist, raised hatchback rather than a true SUV. But while not full-sized, you do still get to sit high on the road and enjoy plenty of interior space — especially in the second row. Also, the amount due at signing drops to around $3,000 if you currently lease a GM vehicle.
Key features:
138-HP four-cylinder turbo engine
18.7 cubic feet of cargo space
Available in-car wifi
Rear-view camera
Some driver assistance tech.
Lease it because: You live in the city but want the added space of an SUV.
2017 Hyundai Tucson
Monthly lease payment: $199
Due at signing: $2,999Term: 36 months
This Hyundai fits is a family-friendly SUV with all the latest infotainment and connectivity, strong build quality, and an unusually comprehensive warranty. The Tucson is more than a safe pick, and it's only $200 per month.
Key features:
164-HP four-cylinder engine
31 cubic feet of cargo space
Available Apple CarPlay and Android Auto
Available driver assistance tech
Available all-wheel drive
Lease it because: You travel around with more than one stroller and appreciate a commanding view of the road.
2017 Jeep Compass Latitude 4X4
Monthly lease payment: $99
Due at signing: $3,689Term: 24 months
Under $100 per month for a compact SUV with four-wheel drive? You read that right: This month, you can lease a 2017 Jeep Compass in some parts of the country for a pittance. (NOTE: It's slightly more expensive, at $169/month, in other parts of the country). With 27 cubic inches of cargo space behind the rear seats, the Compass works for families with a lot of gear. It fits snugly in the carport or on the street and comes equipped with all of the latest connectivity features at your fingertips. Plus, dads longing for their sports-car days can opt for the Compass' slick, 6-speed manual transmission.
Key features:
180-HP four-cylinder engine
6-speed manual or 9-speed automatic transmission
All-wheel drive
Rear-view camera
Optional touchscreen navigation
Blind-spot warning
Lease it because: It looks and performs like a Grand Cherokee, at a fraction of the size and cost.
2017 Mazda6
Monthly lease payment: $159
Due at signing: $2,799Term: 36 months
Another top bargain this month is the 2017 Mazda6 at just $159. It's essentially a full-size family sedan for about the same price as a compact sedan from other manufacturers. The cockpit is spacious and well appointed, and the sultry, distinctive exterior styling means you'll easily be able to find yours in the mall parking lot. Not only that, it gets a solid 37 miles to the gallon highway.
Key features:
184-HP four-cylinder engine
37-mpg highway
Rear-view camera
17 cubic feet of cargo space
Available active safety equipment
Lease it because: Right size, right price, fun to drive.
2018 Hyundai Elantra GT
Monthly lease payment: $179
Due at signing: $2,199Term: 36 months
You might assume a growing family needs an SUV, but this roomy hatchback from Hyundai will have you reconsidering. The recently restyled Elantra GT makes a lot of sense for a family on a budget, offering space, quality, and fuel efficiency. And rounding out the deal is Hyundai's stellar, five-year warranty and roadside assistance plan.
Key features:
161-HP four-cylinder engine w/ optional 201-HP turbo
25 cubic feet of cargo space
Standard Apple CarPlay and Android Auto
Lease it because: You know a good deal when you read one.
2017 Volkswagen Tiguan Limited
Monthly lease payment: $189
Due at signing: $2,499Term: 36 months
Normally we wouldn't run the same vehicle two months in a row, but Volkswagen got crazy and lowered the price on the outgoing Tiguan SUV (now known as "Tiguan Limited") even more. September's lease rate is down to $189 per month. Despite the name change, the Tiguan Limited is functionally the same, well-regarded ⏤ albeit short on creature comforts ⏤ Tiguan that has been on sale for the last several years.
Key features:
200-HP turbocharged four-cylinder engine
Available all-wheel drive
Rear-view camera
Touchscreen multimedia display
Lease it because: The concept of German engineering still means something to your family.
2017 Chevrolet Bolt EV
Monthly lease payment: $159
Due at signing: $3,420Term: 36 months
While Chevrolet doesn't have a national deal on this family-friendly hatchback rated at 238 miles per full charge, it's still worth mentioning. If you live in California, not only are local dealers flush with deals ⏤ some got a little overeager with the ordering ⏤ but residents can even apply up to $2,500 of the state rebate to the required down payment.
Key features:
200-HP electric motor
Single-speed transmission
Rear-view camera
Available emergency braking
238-mile range
Overnight charging
Lease it because: It fits the family plus gear, and you'll never visit a gas station again.