The Best LEGO Set for Dads Has Big Bird in It
by Sal Vaglica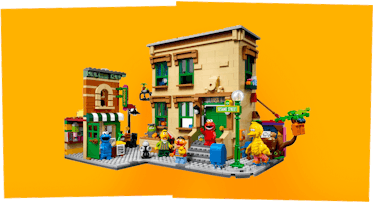 This Sesame Street corner is buzzing with activity with the famous crew you remember. Everyone's here, from tallest to shortest, you've got Big Bird down to Ernie's rubber ducky. Technically, this 1,367 piece set is for 18 years and up, so it's a bit more advanced for young kids. But that's okay — they can admire it when you're done. The set is incredibly detailed with everything from Big Bird's nest to an Oscar popping out of a trash can, and that's just the outside.
On the outside, you have all the hallmarks you remember from the show, from the ornate streetlamp and sign o the tan-colored brownstone building and stoop. Walk through the double door into Elmo's bedroom where you'll find cool pieces like a fishbowl, rocketship, stuffed bunny, a toy trainset, and stickers for other characters not included in the set.
On the second floor, you'll see Bert and Ernie's room, complete with a chunky lamp, dinosaur toy, a reading chair, and Ernie's bathtub. The outside of the building has some cool details like a fire escape and decorated windows. Then you have a Hooper's store in the corner with newspapers outside and a checkered tablecloth seating area.
Every product on Fatherly is independently selected by our editors, writers, and experts. If you click a link on our site and buy something, we may earn an affiliate commission.
This article was originally published on