The Best Kids Camping Gear For First-Time Campers
Taking kids camping for the first time? Don't worry, we've got you covered.
by Berne Broudy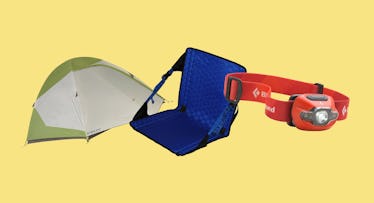 When you take kids camping, the only thing you can really expect is that something will inevitably go wrong. You'll forget the flashlight and the rest of the kids camping gear. Someone will pee on poison ivy. A creature will scratch at your tent all night, leaving you and your family as baggy-eyed as Tex Avery characters. That's why it's called an adventure.
RELATED: The Best Three-Season Sleeping Bags For Kids
Good camping gear won't save you from the inevitable — and memorable — unplanned events of a weekend camping trip. But it will help your family have a better, catastrophe-free time (there is a difference between, say, suffering through a thunderstorm and suffering through a thunderstorm in a leaky, unstable tent.) The right kit makes a difference.
ALSO: The Best Family Camping Gear
That's why we've assembled this cheat sheet for kids' camping gear. In it, you'll find broad product groups you'll definitely need as well as some affordable recommendations we like. From a properly-fitting hiking backpack and easy-to-roll sleeping pad to a quick set-up tent and headlamp that doesn't run out of juice en route to nightly hole-shoveling these seven essentials will gear the kids up for their first big outdoor adventure.
Best Kids Camping Gear: Tent
What to look for: It's unlikely your kids are going want to sit around and watch dad fumble with the tentpoles, so you'll want a tent that's easy to pitch and goes up quickly. If you do more backpacking than car camping, go with the lightest tent possible that can accommodate your family. Just be sure that it has vestibule space for 'dry enough' gear storage. A lighter tent with more interior space might cost more, but you'll appreciate it in the end ⏤ especially when you get stuck inside playing cards on rainy days. Some other niceties: Multiple doors make it easier to enter and exit without waking up the kids, and a freestanding tent is nice because you can assemble it first before moving the entire structure to that perfect flat spot.
We like: Kelty's Grand Mesa 2. It's less than five pounds, freestanding with color-coded, shock-corded poles ⏤ so it takes no time to set up (rain fly and all) ⏤ and it's about as affordable as you can get. While it does have only one door, it's well placed so nobody has to climb over anybody else to go pee. A fly vent helps manage condensation, and the tent comes in larger sizes depending on whether you're taking Junior out on a father-son adventure or camping with the entire family.
Best Kids Camping Gear: Backpacks
What to look for: Durability is key, yes, but a good backpack needs to be comfortable, too. Buy one that fits your kids properly now, but that can also grow with them. Like adult packs, most kids backpacks are sized by torso length and can accommodate a range of sizes thanks to adjustable shoulder straps. Weight distribution is also paramount. The more gear a tiny hiker carries, the more important it is that their pack has a high-quality, supportive hip belt, and a reinforced back panel.
We like: Osprey Jet 18. The most feature-rich rucksack for your little John Muir, the Jet 18 is a true backpacking pack in daypack size. The padded foam back panel, contoured shoulder straps, and broad mesh hip belt are light, but carry loads comfortably. Osprey puts a mesh stash pocket on the shoulder strap where it's easy to reach, while side pockets hold treasure, water, and extra crackers. An oversized bucket-style main compartment is easy to access, and there's a water reservoir that can be removed or reloaded without having to take the pack off; it sits in a sleeve between the pack body and the back panel.
Best Kids Camping Gear: Sleeping Bags
What to look for: Unless you're a summer-only camping family, you want a sleeping bag that can handle a range of temperatures; a three-season bag should provide some flexibility with when and where you go. Most kid bags are synthetic, which make them more affordable, but also means that they don't pack down as well. Keep that in mind if you plan to stuff it in/lash it on their hiking pack. Also, make sure you get a bag that's sized as close as possible to your kid's height as you don't want them swimming in their bag on a cold night ⏤ too much room in there can be hard to heat up.
We like: Big Agnes Wolverine 15. This cozy mummy bag is shaped like a little person, sculpted around the body and head, and features a draft-free collar and zipper ⏤ both of which help the shingled insulation keep Junior warm. It comes in three sizes ⏤ for kids, juniors, and teens ⏤ and rocks an integrated padded sleeve on the actual bag that prevents it, and your child, from sliding off their pad during the night. We cannot stress how huge this is.
Best Kids Camping Gear: Sleeping Pads
What to look for: When your kids get a good night sleep in the woods, you all have a better day. Choose one with a little extra insulation to protect them from a cold or bumpy ground. And whatever you do, make sure it's easy to inflate and deflate.
We like: Therm-a-Rest's TrailScout is a contoured, self-inflating air mattress with a supportive foam core. To inflate, unscrew the valve. To deflate, open the valve and roll it up, squeezing out the air as you go. So simple, even a 7-year-old can do it. In fact, it's billed specifically for first-time campers "looking to upgrade from closed-cell foam pads." The TrailScout is best for summer outings, weighs around 1.6-pounds, and comes with a stuff sack to help protect it from punctures.
Best Kids Camping Gear: Headlamps
What to look for: Whether reading in the tent, navigating to the bathroom, or searching for their missing water bottle (and it will go missing), a good headlamp ensures you (and the kids) can explore hands-free and aren't caught in the dark. Buy one with lots of lumens and good battery life.
We like: Black Diamond's Cosmo is waterproof, weighs only 2.9-ounces, and projects 200 lumens of power across six lighting modes. Not only will little campers have fun exploring with the red night vision and dimming/strobe modes, but they can play with this headlamp for hours and not kill the three AAA batteries. Even better, a push of a button locks it to prevent accidental illumination.
Best Kids Camping Gear: Camp Chairs
What to look for: Sitting around a campfire, roasting marshmallows, and telling the kids ghost stories is one of camping's greatest pleasures. And, as with sleeping bags and mats, comfort is key when introducing young kids to the great outdoors. Pick a chair that's light and packable, but one that will also insulate and keep their little butts dry. Also, good back support makes sitting under the stars a lot more fun, even when the stories are scary.
We like: Crazy Creek's Hex 2.0 Original Chair is the simplest packable chair you can buy. Closed cell foam in the seat provides a solid ground barrier, it rolls up for convenient storage, and it's easily stashed/lashed using the built-in hanging loop. The adjustable side straps ensure a preferred angle of recline, and if the night turns colder than anticipated, simply unclip the seat and use it under your sleeping pad for extra insulation. Finally, kids love to rock and roll around in this thing.
Best Kids Camping Gear: Cooking Kit
What to look for: The best culinary camp gear is compact and able to pull double duty — a cup, for example, should second as a bowl. Choose dishes and cutlery that don't conduct heat; straight metal can be too hot, and a single-wall metal cup will burn your kids' lips. Bad start to day in the wilderness. A kit with different colors encourages everyone to keep tabs on their own set.
Unless you're headed out in the middle of winter, a canister fuel stove is the most user-friendly. Even then, try to calculate how many meals you'll need to cook and only buy enough BTUs to get through the trip. Otherwise, you'll end up weighing yourself down with gas. The ability to simmer is useful. So is a windscreen.
We like: The nesting MSR Pocket RocketStove Kit. Easy-to-operate and fully-adjustable, it weighs only three ounces and can boil a liter of water in under four minutes. It stashes inside the minimalist cook set, which has a two-liter hard-anodized pot, a strainer pot lid, two bowls, two-12.5 ounce insulated mugs with sip through lids, an integrated pot handle, and two folding sporks. All the pieces stow inside the pot, which leaves room in your pack or car for other gear. And if you're three or four people, MSR has larger sets to accommodate — and with different colors to help keep kids from arguing over who was using whose bowl.
This article was originally published on