The Coolest and Most Useful Golf Clothing You Can Buy, According to the Masters
From tropical prints and Jordans to cigars and legendary facial hair, some of the world's best golfers are also its best dressers.
by Cameron Teske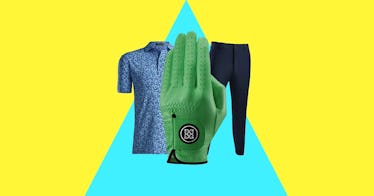 People who love and play golf will tell you it's everything — a way of life, the perfect metaphor, a universe unto itself. And they're not wrong: Golf is one of the most flexible sports out there, a practice that adapts itself to wherever you are in life. It can be a meditative escape from the stressors of the everyday, the perfect place to seal the deal, a reservoir of nostalgia, an opportunity to bond with old friends, or a chance to crush your siblings. Golf clothing, on the other hand, can feel a little predictable and not so expansive.
But some see the golf course as a great place to make a fashion statement, oozing swagger and confidence as they strut up to the first hole tee box. These are the bold souls for whom the fairway is as much as a runway for their own fashion show as it is an approach to the pin.
So before you dismiss the mantra look good, feel good, play good, kick off your grass-stained New Balances and decade-old cargo shorts, and let's get some fashion advice from those golfers who are dressed to the nines… er, eighteens?
Brian Gay
He may not have the most PGA wins, but he does have one of the most dominant in the Tour's history with a 10-stroke victory at a 2009 tournament shooting 20-under. But it's all about quality over quantity — and quality is definitely what Gay is going for with his G/Fore Polos. He was rocking a G/Fore Flower Polo last year as he won his first PGA event in nearly a decade.
You can also feel like a winner in an ultra-lightweight floral print G/Fore Polo of your own. It's made with extremely soft jersey fabric with added stretch for maximum mobility — there's no using "uncomfortable shirt" in your excuse repertoire for your latest shanked ball while wearing this one.
Erik Van Rooyen
Why the classic knickerbocker golf uniform ever went out of style is a mystery. The legendary and eccentrically dressed Payne Stewart tried his best to keep the historically significant style alive until his tragic death far too soon. Van Rooyen's golf joggers may not be quite as extreme as Stewart's knickers and high socks, but his taste in golf clothing is a step in the right direction, bringing an old style back into focus.
These golf joggers blend a nice relationship between comfortable athletic pants and country club golf attire. The G/Fore Golf Jogger is made with 100 percent polyester tech twill for comfort but with the look of a polished pant.
Rickie Fowler
Rickie Fowler has been at the top of the golf clothing conversation ever since he swung his first professional club. He's always been one to push limits that make golf purists cringe. Luckily for Rickie, he can back up the loudness of his attire with his game. A bad golfer would never be able to get away with much of what Fowler rocks. So before you go out and stock up on Hawaiian prints, be sure you aren't going to duff your coconuts into the rough.
The Puma Islands Golf Shirt is a full button-up with moisture wicking capabilities, perfect for a sweaty round on a hot summer day. To extend the island vibe, check out the Sabbatical Golf Shorts. With a combination of spandex, cotton, and nylon, these shorts provide enough stretch for any precarious situation you find your golf stance.
Harold Varner III
A kid from Akron, Ohio… we usually know where this one's going — the GOAT conversation between LeBron and MJ. This time, Jordan lays claim to Akron. Every Jordan-sponsored athlete is hand-selected by Michael, himself, and Harold Varner III is no exception. Varner was only the second golfer ever chosen, as the Jordan Brand is trying got break into the golf game. Repped by one of the greatest athletes to ever play any sport, Varner has some big shoes to fill, but also some stylish ones that are certain to enhance his outings on the course.
The Jordan ADG 3 is a spikeless golf shoe with responsive Zoom Air for a comfortable and supportive cushion for your feet. Nike does it again by focusing on the details, bringing the 'netting' tongue, premium leather, the wing-shaped heel tab, and the iconic Jumpman logo all inspired by the Jordan 4.
Michael Jordan
Speaking of Michael, he's quite the golfer, as well. No sport encourages smoking and gambling while playing the way golf does — both of which Michael Jordan has notoriously enjoyed aplenty. In a recent interview, Jordan shared that his favorite cigar is the Partagas Lusitania.
Partagas have been creating quality cigars since 1845. It is one of the oldest and most renowned Cuban cigar brands. They are known for their full, rich, and earthy flavors with a bold smoke — a favorite among cigar enthusiasts.
But whatever stogie you fancy, it may just elevate your game, or at least your experience on the course. In other fashion news, MJ definitely has a vibe going on here, and I'm all for it.
Brandt Snedeker
Not known for forays into eccentric golf clothing, Snedeker sneaks onto this list for his subtle flair in accessories. And many a golfer prefers to keep things mostly status quo with just a bit of fun. To keep his game light and loose, Snedeker grips his club with colorful gloves from G/Fore. There's a whole slew of colorful options to slightly turn up the volume of your presence on the course.
When selecting a new golf glove, the most important aspect to take into consideration is whether or not it will negatively affect your golf game. The G/Fore Golf Gloves are crafted with premium AA Cabretta Leather for ultimate comfort and extra grip without sacrificing the swing you know and love. If you hate your swing, there's no guarantee these gloves will fix anything, but it's worth a shot.
Bryson DeChambeau
Bryson has taken a unique approach to his golf game ever since he entered the mainstream golf scene. He's known as "The Scientist" for his extremely analytical method for preparing a golf shot. He now has the longest drive on the PGA Tour after bulking up an additional 40 pounds of muscle. And through it all, he's been a model of golf clothing signature style: His scally cap has been with DeChambeau from the time he was named Low-Amateur at his first Masters Tournament in 2016 to his monster 370-yard drives. The muscle doesn't come with the hat, but the hat brings some muscle.
A hat should be functional and stylish. The Puma Tour Driver Cap is the perfect combination. It features a moisture-wicking sweatband to keep your sweaty head-droplets out of your eyes in order to keep your eyes on the prize at the bottom of the pin flag.
Brooks Koepka
It takes a special kind of bravado to confidently pull off a mustache. Brooks has a cool aura about him with the Nike Swoosh across his hat and polo, and the fuzzy swoosh across his upper lip. Think you've got what it takes, too? There's only one way to find out!
The Gillette Ultimate Beard Care Kit can help you prepare your own perfect golf stache. Growing it is just up to you. With the beard and face wash made with coconut water, argan oil and avocado oil, your skin will look great, and your mustache even greater. The double-edge safety razor will keep the rest of your face a perfectly smooth canvas for your mustache masterpiece.
The Masters Green Jacket
This one can't be bought. It must be earned. This jacket is the most valuable piece of clothing in just 53 golfers' closets — and some have more than one.
While there are no guarantees that you'll knock off any strokes from your golf game by dressing like the professionals, you'll at least look good trying. Hit 'em long. Hit 'em straight. Keep swinging!
Every product on Fatherly is independently selected by our editors, writers, and experts. If you click a link on our site and buy something, we may earn an affiliate commission.