Holiday Gifts: The Best STEM Toys For Kids
Some kids are content with their action figures. And then some need a little more engagement and demand to use more brainpower. This gift guide is for them.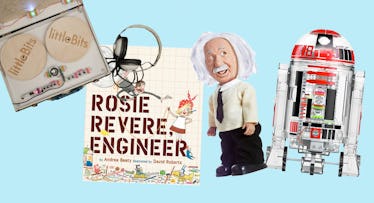 Some kids are content with their action figures. And then some need a little more engagement and demand to use more brainpower. For those overachiever future STEM workers, we've curated a holiday gift guide that will get their hands, brains, and hearts into the playtime game. Here are the best STEM toys for kids this season.
3Doodler
Make 3D creations all with one pen. The 3Doodler is a popular 3D pen that lets your kid create their own toys, robots, miniatures — whatever they can dream up. They can pick their own colored eco-plastic filaments to create with, and it's off to the races. Forget hanging your child's art on the fridge — this stuff belongs on the trophy shelf.
littleBits Droid Inventor Kit
When you took your son or daughter to see Star Wars, were they more interested in the Droids than the Jedi? Then this kit might be for them. They can create their own Droid with a set of six electronic blocks called Bits, dozens of Droid parts, and sticker sheets to customize the look. Download the free app and go on missions with your Droid — from cruising around obstacles to spinning its head 360 degrees.
Arckit
Let your kid's inner architect out with the Arckit, where they can create true-to-life miniatures of buildings, homes, and dorms all on their own. The freeform template lets your kid explore all the ways the pieces can fit together, and in the end, you'll (hopefully) have something that can give you some serious bragging rights among other parents.
Bare Conductive Electric Paint
Give your kid the gift of being able to create circuits seamlessly with electric paint. That's right, electric paint. It lets your child turn a piece of paper into a lamp, a touch board, whatever you'd want that requires electricity. Simply dip and go. There are starter kits for lamps and touch boards, or you can resupply your paint solo. If your kid loves electronics, gadgets, and gizmos, it's an ideal way to get them started on the path toward creation.
littleBits Smart Home Kit
Your little inventor may be fascinated by Amazon's Alexa — so take their curiosity to the next level. The Smart Home Kit includes everything you and your little inventor need to connect regular household objects to the Internet. Complete with 14 Bits and 12 accessories, with a little elbow grease, your kid can make your family a smart fridge dongle — letting you know when it's been open too long — or a wireless lighting setup. Don't worry, there are instructions.
Ikos 3D Building
Let your kid build beautiful (well, hopefully beautiful) objects from their own imagination. This simple, innovative building set is a spherical construction toy that can absorb your child for hours as they connect different colored pieces and make, destroy, and rebuild whatever they want.
Professor Einstein
This little friend your kid can play with adds a whole new world to their lives. Professor Einstein engages and teaches kids but blends it with seamless fun. Once connected to wifi, he can discuss math, science, or just about anything your child might be interested in. Plus, if you sync him with your iPad, he and your kid can play brain-teasing games that will end up being endless fun.
The Crafty Robot
Your kid can create their own fun simply with a paper cutout and a Bit. The Crafty Robot is a small paper robot that you can plug into a USB and it'll move and waddle around with aplomb. The real fun is in creating your own robot with the free templates — or just your child's imagination. With the Bits (FizzBits, as they call them), your kid can create their own little football team or fighting monsters.
Infento
As the company says, it's like Lego — only life-sized. Your kid can build their own customized bike or tricycle with the given parts in a kit, and then take it on the road. It's perfect for any age, almost, and there are even snow kits that allow your kid to zip along the street when it gets chillier. Build multiple rides from one kit — it's all up to you two.
Two Must-Read Books: Coppernickel, The Invention and Rosie Revere, Engineer
These two must-reads for young inventors inspire and motivate. In Coppernickel, author Wouter van Reek takes children on a journey where a bird and a dog set out to invent a machine to pick hard-to-reach elderberries. In Rosie Revere, a young girl sets out to build an invention that helps her aunt fly — and the only way to fail is to quit. These two illustrated books show kids that their imagination is limitless — as is their potential.
Yeehaw 3D Printer
The Yeehaw 3D printer allows kids to build their own toys in the comfort of the living room. All you need is the accompanying app, where you design the desired toy, and press print. To make sure the kids stay safe as the printer works, it comes with a fully enclosed transparent case (so they can still see the magic happen) and trigger that shuts the process down if the printer is moved in any way.
littleBits Synth Kit
Yes, the "Synth" in this kit is short for synthesizer. So if you're raising a wannabe musician or producer, there's no better way than this customizable and expandable analog modular instrument. The Synth Kit includes an assortment of 12 electronic Bits that snap together with magnets to create circuits like those used in analog synthesizers.
This article was originally published on