The Best Gifts for Young Inventors
What do you get for the kid that could probably just make it themselves? A gift that doubles as a starter kit for bigger and better things.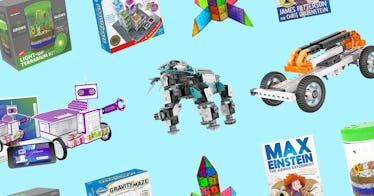 The following was produced in partnership with littleBits.
There's only so much time your kid can spend staring at a screen before boredom sets in, so it's important to find entertaining ways to get them thinking critically and creatively outside of school. This holiday gift guide is chock full of the best STEM toys that will stimulate and entertain young minds this season.
littleBits Space Rover Kit
This toy lets kids explore their imaginations like NASA explored Mars. The space rover kit comes with instructions for 30 different space-themed activities, including how to build your very own rover that can launch a probe or play soccer. The activities help kids build STEM skills through hands-on work and imagining what inventions we might need for future space exploration. The free Inventor app guides kids through all of the activities and helps them program and control their inventions once built. It's a great gift for kids who love space, creative kids who love building with their own hands, or both.
Mini Explorer Light-up Terrarium Kit for Kids
This kit comes with everything your kid will need to create and maintain their own terrarium, from the jar to seeds to whimsical props. Kids will love setting everything up and then watching their seeds take root in a self-contained ecosystem. A bonus feature: the rechargeable light makes this double as an awesome night light.
ThinkFun Gravity Maze
Logic games are a great way to build the problem-solving abilities, and the ThinkFun Gravity Maze is one of the best around. The object is to get a marble from the starting tower to the target piece using 9 different towers that fit into the game grid and contain tubes that redirect a marble in different directions. It's one of those games that is easy to pick up but difficult to master as you keep playing.
littleBits Avengers Hero Inventor Kit
The ultimate inventor, Tony Stark is a genius engineer and Super Hero who saves the world with the Iron Man suit. While you may not have the resources of Stark Industries behind you, you can get your Avengers-obsessed kids amped for learning about engineering and coding with this kit. Like all littleBits toys, through hands-on and digital play, kids get the chance to assemble a bunch of nifty electronic building blocks (called "Bits") and power them with a free app and coding platform. This particular kit comes with an accelerometer, lower energy Bluetooth control hub, light sensor, power button, speaker, LED matrix, and more that snap into a wearable gauntlet. The stickers and in-app activities prompt kids to get creative and build their own custom Super Hero gauntlets for ultimate customizability.
Magna-Tiles
This building toy is unlike any other. Its pieces are flat shapes that attach to each other via magnetized edges that attach to each other securely but come apart easily. Kids can build whatever they want, from architectural models to animals. Magna-Tiles are a great outlet for kids with a ton of creative energy.
The Most Magnificent Thing
This book has a great lesson for kids who aren't so great at dealing with obstacles. A young girl who fancies herself an inventor has a bold vision for a new creation, but she runs into a ton of problems. Her excitement turns to a desire to quit, but gaining a new perspective on her project helps her solve those problems and rediscover her passion for invention.
littleBits Electronic Music Inventor Kit
Aspiring sound engineers and rock stars alike will love this toy, which lets them play in two different ways. There's the building part, in which kids assemble and program the included components — electronics like an accelerometer, proximity sensor, oscillator, 13-switch keyboard, and microsequencer — into one of four unique musical instruments like a keytar or air drums. Then, they get to rock out on their inventions, fun that might include playing original melodies or recreating songs by their favorite musicians. The best part? Once they've played one instrument for a while, they can transform the pieces into a new instrument and discover their own sound.
Max Einstein: The Genius Experiment
James Patterson turns his attention to children's books in this title officially endorsed by Albert Einstein's estate. The eponymous protagonist partners with other young geniuses around the world, a team dedicated to using their imaginations and knowledge to battle a sinister power known as The Corporation. The message of the book is that kids can accomplish great things with their imaginations and Patterson, an author whose imagination has literally sold hundreds of millions of books, is a more than capable messenger.
OWI 6-in-1 Educational Solar Kit
Solar power isn't just for calculators anymore. This kit comes with six different gadgets, each powered by a solar panel, that teaches young engineers about how solar energy can be converted into electrical energy that can be converted into mechanical energy. The models range from a windmill to a puppy and, because light powers everything, you don't even have to worry about having batteries on hand.
UBTECH Jimu Inventor Level Robot Kit
This robotics kit comes with 675 interlocking, interchangeable parts. The companion app includes 3D, 360-degree models of six different animal designs, but kids can also create something entirely unique. Once they've finished building, kids can connect the app to their robot using Bluetooth and code for the robot using a block-based interface that teaches the basics of computer science.
Engino Discovering STEM Newton's Laws
If your kid wants to engineer anything, she'll need to have a good grasp of physics. This kit is specifically designed to teach Newton's Laws using a series of different models. Topics illustrated by the models and explained in detail in the accompanying booklet include intertia, momentum, and kinetic and potential energy. From the catapult to the drag racer, the models themselves are also pretty cool.
4M Anti-Gravity Magnetic Levitation Science Kit
Seven different projects introduce young scientists to the world of magnets. It sounds super nerdy, and we suppose it is, but these experiments are actually pretty cool. There's the floating pencil, the DIY compass and a magnetic weight scale, all nifty examples of magnetic force that sneakily educate kids while they're having fun.
This article was originally published on