The Best Gifts for Sporty Kids
From small football fans to high-strung tykes, these gifts get the energy out.
by Ben Radding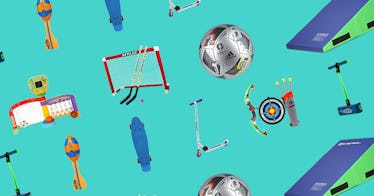 Soccer. Football. Karate. Dance. There are endless ways for kids to release their boundless energy — there has to be. It never ends. And because sporty kids have a tendency to never stop moving, we need ways to keep them entertained when they're not in Little League. That's why we rounded up a few of our favorite gifts for little movers. Whether they love their chosen sport, need to release some excess energy, or are just looking to spend some active time with dad, these gifts will satisfy the itch.
Little Tikes 3-in-1 Sports Zone
Get your tike started in the sporting life with this awesome multi-purpose play set, one of our favorite new toys of the year. You've got mini basketball, soccer, and bowling—with an adjustable height hoop for the basketball and 75 fun sounds for when your little one scores.
MacGregor Batting Tee
No matter their age, if they dig softball or baseball, they need to practice their swings. And this batting tee is the perfect place to start. The height adjusts between 20 and 40 inches — so you're good no matter how tall they are — and has a solid metal base so it won't move with your kid's swings.
adidas Performance Euro 16 Glider Soccer Ball
They deserve the best, so why not just get it? This is one of the official soccer balls the pros use in European Championship games. They're pretty good-looking too, with a TPU exterior, machine-stitched construction, and an array of awesome designs.
Betheaces Kids Hover Soccer Ball Set
Now this looks fun. Whether your kid plays or not, they'll love this quasi-soccer game set that comes with two little goals and a hovering soccer ball —think air hockey — with softs sides for plenty of kicks without injury. Kick it around and see the LEDs light up.
Franklin Sports NFL Deluxe Youth Uniform Set
If your kid loves to watch football with you, they'll doubly love it with these cute NFL costumes that include your favorite team's helmet, jersey, chinstrap, and pants.
Toysery Bow & Arrow Archery Set
The Summer Games are only two years away. Get 'em started with a mini archery set — complete with target. Don't worry: the arrowheads are suction cups. And it even comes with a quiver for your tyke to show off his or her Legolas skills.
We Sell Mats Gymnastics Folding Mat
The name pretty much says it all. This epic, colorful incline mat gives your kids hours of tumbling fun whenever they need to get the lead out. Choose from rainbow, pink, or blue and start the goofy falls.
Flybar Pogo Jumper
Give the gift of a pogo stick (and a helmet, please). This one is made just for jumpy kids: a flexy bar that won't cause any damage, and foam handlebar and bottom. They won't be able to get higher than a few inches, but they won't notice when they're having a blast.
Mylec Deluxe Folding Hockey Goal Set
Hit the puck in your driveway with this simple hockey set. It comes with small, durable sticks and a goal made from PVC tubes and a sleeve net. Add rollerblades and make it a real challenge.
RIMABLE Skateboard
There's something undeniably cool about a skateboarding kid. Start them off early if they're interested with this little cruiser — only 22 inches long — that comes in a variety of fun colors and includes polyurethane wheels for a smooth ride.
Nerf Vortex Howler
The backyard becomes the gridiron with a Nerf football. This one is the classic Aero Howler design, with a tail, grips, and a howling noise as it spins in the air. One of a kid's most treasured wastes of time.
Razor A2 Kick Scooter
A sporty neighborhood kid just needs a scooter. Needs it. And the Razor is the gold standard: made from sturdy aluminum and with a folding T-design, the Razor scooter is as iconic as it is a total blast to ride around on. Your kid won't be able to thank you enough.
This article was originally published on