The Best Gifts for Gamer Dads
What do you get the video-game-dedicated dad? The coolest gaming gear. It wasn't a trick question.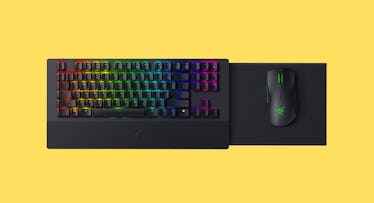 Gamer dads come in many forms and have many different tastes. The kind of gamer who lives for the new Madden every year is different from the one who's been playing League of Legends for the past decade. So if you're buying a gift for a gamer dad, the better move is to let him pick the games — which he knows way more about anyway — and instead gift a new piece of gear that will improve his gaming experience no matter his tastes.
We're talking about accessories — things like specially designed furniture, premium audio equipment, and something called a ButtKicker (seriously). Because the gear that can take any video-game setup from good to great is, incidentally, also the stuff you should be buying as gifts for the gamer dad in your life (even if that dad is, well, you).
Combined with a solid internet connection — a must for everything from downloading gigabytes of updates to playing with people all over the world — great gaming accessories like these are the secret to a great gaming experience at home.
Samsung QLED 4K Q90 Series Smart TV
This high-end TV is simultaneously massive (available in 65-, 75-, and 82-inch configurations) and minuscule (less than 2 inches thick). That's the kind of ratio you want in a television, but it's the picture performance that makes this display worthy of your gaming dollar. It's engineered to reduce glare and enhance color no matter the viewing angle — so there's not a bad seat in the house for multiplayer battles — and the 16 separate zones of LEDs produce deep blacks and crisp whites across this 4K display.
ButtKicker BK-LFE Low Frequency Effects System
This clever device attaches directly to floors or furniture in your living room, translating low frequency sound — the rumbling bass from your favorite games — into vibrations. It plugs directly into an amplifier and isn't just great for gaming. Movie theaters charge extra for so-called 4D movies that utilize similar technology; this device is a way to bring that same, theater-level experience into your own home. And as a bonus, the ButtKicker allows you to turn down the bass after the kids fall asleep without losing the sense of immersion that a tactile transducer can provide.
Sennheiser Game ONE Gaming Headset
If you plan on doing any online gaming, a proper headset is clutch. Sound effects — and trash talk — come in crystal clear on this headset from the celebrated audio company, and the open-back design means your ears won't get overheated in the middle of a match. The microphone features noise-canceling technology, a must if, like most parents, your living room can get a bit hectic. It also automatically mutes when you raise the boom arm up.
HTC VIVE Pro Virtual Reality System
For the ultimate immersive experience, you just can't beat virtual reality gaming. The HTC VIVE Pro is a premium option that doesn't skimp on anything. It offers dual AMOLED screens that combine for a 110-degree field of vision, a bevy of sensors for sub-millimeter movement tracking, and 3D spatial sound technology that means even the audio adds to the VR experience.
KontrolFreek FPS Freek Vortex
These thumbstick attachments are deceptively low-tech solutions to a high-tech problem. We say deceptively because of the precise design touches that are built into them. The left joystick gets a 6.1-mm mid-rise stick that can help provide extra grip. The right joystick gets a 12.6-mm domed attachment that makes it easier to move precisely. Together, they increase comfort, improve accuracy, and up your range of motion by up to 152.7 percent (!).
Govee TV LED Backlights
You may not know it, but the back of your TV almost certainly has a USB port. Put it to good use with this set of LED lights that clip to the back of your TV. Having them there can decrease the strain on your eyes, which work harder where there's a huge difference in brightness levels between like the glow of your TV and the dark wall behind it. These particular lights let you choose their color and brightness level using the included remote and smartphone app. For $13, they're one of the lowest-cost, highest-impact upgrades you can make to your home theater setup.
Bose 5.1 Home Theater Set: Soundbar 700, Bass 700, Surround Speakers
Today's video games look better than ever, it's true, but they also sound better than ever. This speaker set — a soundbar, subwoofer, and two surround-sound units — lets you hear everything from leaves rustling to massive explosions with clarity. And apart from its gaming applications, the built-in WiFi and Alexa means it's easy to play music in equally great quality through the streaming service of your choice.
Seagate Game Drive for PS4 Systems
This PS4-branded external hard drive is the perfect tool for backing up all of your PlayStation content. With space for more than 50 games, it's also a great way to maintain a complete library of the games you want to play without the hassle of uninstalling and reinstalling titles over and over again. It connects directly to the console via USB, won't void your warranty, and uses the same firmware as the PS4 — so the experience is seamless.
Thrustmaster T80 Ferrari 488 GTB Edition Racing Wheel
Playing racing games with a standard controller is fun. Playing racing games with driving controllers is ecstasy. If you find yourself speeding through Gran Turismo and Burnout games often, treat yourself to this Ferrari-branded set. It comes with dual pedals and a steering wheel — an 8:10 scale replica of a real Ferrari 488 GTB wheel — with a bungee cord mechanism that provides realistic linear resistance. The pedals are also great, with progressive resistance on the brake and full adjustability for comfortable driving.
Thrustmaster T16000M FCS HOTAS
For serious PC gamers, this throttle-joystick combination is a godsend. It's built for flight simulators and offers an insanely accurate and tweakable play experience. The helical spring inside the joystick provides firm, linear, and smooth tension across four independent axes, including the twist rudder. It also has 16 separate action buttons with "braille" style tactile markers. The throttle lets you use your left hand to control your speed and has 14 buttons of its own. If you're into flight simulators — and why wouldn't you be — these accessories are a giant leap forward in accuracy and control and a worthy addition to your setup.
Razer Turret Wireless Mechanical Gaming Keyboard and Mouse Combo
No matter your gaming device of choice, this keyboard-mouse combo works wirelessly through a tiny USB dongle that plugs right into your Xbox or PC. On the keyboard, you'll find high-end features like mechanical switches — a must for serious gamers — a light-up keyboard, and a key dedicated to the Xbox dashboard. It lasts up to 50 hours on a single charge. The mouse sits on a magnetic mouse mat that helps keep it secure and slides away when not in use and has the Razer 5G advanced optical sensor for precision operation. It's almost worth the price just for never having to type using a conventional video-game controller again.
This article was originally published on