The Best Fjällräven Backpacks for Kids
The best bags for every age.
by Ben Radding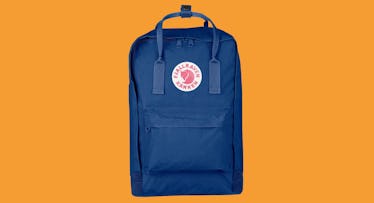 The school year is right around the corner, and that means it's probably time for a new backpack for the kids. While you may be tempted to sticking to the tried-and-true brands you grew up with, we think your kids could benefit from something a little different, something a little more in vogue, something from across the pond. We think your kids could really benefit from a Fjällräven backpack.
Fjällräven is a brand of very well-known bags from Sweden, originating in the 1960s. A bit of backstory: In 1950, 14-year-old Åke Nordin was trekking with a friend in Sweden and hated the way his gear felt on his back. He'd read that if you want to carry something heavy, it should sit tight and close to the upper back for maximum comfort. So he made a wood frame and sewed a bag out of strong cotton material, fastening it to the frame. Nowadays, their sturdy frames are designed to distribute the weight of outdoor gear and books more evenly.
While they're not the cheapest option on the market, they are well worth your kids' time if you're looking for a sturdy school bag with an intangible — that cool factor. Here we've rounded up the best Fjällräven bags that'll give your kids' backs a break and get all their friends talking.
Fjällräven Kanken Kids
Here it is: the alpha and the omega of all children's backpacks. The Kanken Kids backpack is the scaled-down version of the ubiquitious Kanken backpack you're seeing everywhere. The original design harkens back to 1978, and it stays timeless. It's deceptively simple: One small zip pocket in the front and a large compartment in the backpack allows kids to carry basically any they could want with them to school. Made of light, durable Vinylon F fabric, it'll stand up to almost any element in its way. And it's good for kids of any size with its adjustable straps. Don't sleep on this little-kid classic.
Fjällräven Kanken Classic
Bigger kid, bigger bag. Step up the size of your kid's Kanken and lose none of the durability or functionality. The Kanken Classic is also made of Vinylon F fabric to battle the elements, and the boxy construction lets them carry pretty much anything they need for school. It's not too big, so if you're not sure which to get, or your kid is off to high school, it's hard to beat this backpack. Plus every kid will be jealous of the kid whose parents got them the $80 backpack. Small bonus.
Fjällräven Kanken Laptop Backpack
Your kid will need something a little more substantial when they go to college. Something that can, say, hold a Macbook Pro effortlessly. Luckily Fjällräven makes an excellent laptop backpack with a padded pocket to protect a 15-inch laptop. And since the computer is likely a little heftier, it comes with padded shoulder straps so they don't dig into your young scholar. On second thought, you might just want to make this timeless style your new go-to for work and play.