The Best Family Sedan for Every Kind of Dad
The only thing better than have a great car is having a great sedan suited to your lifestyle.
by Mark Silverstein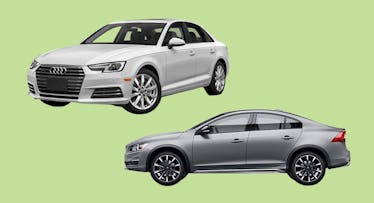 Sedans were once the bland, ubiquitous hallmark of the family man. The utility cars were the sign of a financially responsible adult who valued his family's future above his own self-interest. We say were, because, to a large extent, that role has shifted to the ever-growing crossover SUV segment, which is in the midst of overtaking sedans in terms of sales.
RELATED: The Best New Cars, Trucks, and SUVs for Rich Dads
But, as is so often the case, adapting to such competition yields new and improved models. With the traditional sedan facing a legitimate existential crisis, carmakers have had to either adapt and find new gaps in the market, or watch their traditional family conveyances ebb slowly into obsolescence, just as the station wagon did before them. Fortunately, they've accepted the challenge and as a result, there are some seriously desirable sedans out there. Need proof? Here are the best family sedans for every dad, mom, and kid.
Family Sedan For Off-Roading Dads: Volvo S60 Cross Country
MSRP: $34,100 MSRP
On paper, the Volvo S60 is a fine car. Plenty of tech, clean lines, and an avant-garde interior make it stand out from the crowd. It even brings reasonable performance to your garage without breaking the bank. The Cross Country, however, raises the bar — quite literally. Volvo took a regular S60 and lifted it to ensure over seven inches of ground clearance. No, that's not going to top a full-sized pickup truck in the off-road department, but it'll do about as well as most mid-size crossover SUVs on the market today, and will take you just about anywhere you (realistically) want to go.
Family Sedan For Dads With Teenagers: Toyota Yaris iA
MSRP: $15,950
Toyota's Yaris iA looks like a catfish and a Dustbuster had a child, but if you have a kid who's about to start driving, this is perfect on so many levels. First, with the aforementioned looks and bargain-basement pricing, your teenagers are never going to beg you for the keys on date night. Second, even if they do, you don't have to worry about what insuring a 16-year-old would cost, as you would with most of the other vehicles on this list. Third, and most crucially: this isn't really a Toyota. It's built by Mazda, so while it has a fair amount of safety tech, it's also widely considered by those-in-the-know to be incredibly fun to drive. A fun car that your kid doesn't want to borrow is all sorts of win.
Family Sedan For Super Rich Dads: Aston Martin Rapide-S
MSRP: $200,000+
At the elite end of the spectrum, it's all-too-easy to get caught up in the need for a Rolls-Royce or a Bentley. To be fair, they're fine automobiles that offer nothing but the finest luxury experiences. The Rapide-S, on the other hand, is all Aston Martin. It's more of a grand tourer. Which is to say, it's not without its ultra high-end niceties, but it's a performance car at heart. Under the long and sleek hood lies a monstrous V-12 that produces 550 hp in one of the most sonorous ways imaginable. This is the car the proves it's not about where you're going, so much as how you arrive.
Family Sedan For Tech-Loving Dads: Audi A4
MSRP: $36,000
You want tech? That's one of the prime selling points of the A4. It starts with the instrument cluster — now called Audi Virtual Cockpit. It's basically a 12.3-inch screen that shows a variety of information, or can even show a live 3D map of your location. Of course, it can display your speedometer and tachometer, but there's no need, since that's already projected onto your windshield thanks to the Heads-Up Display. Hate entering addresses into the GPS? The A4 can recognize your handwriting, so you can "draw" numbers and letters right on the center console. And don't forget that it's still an Audi, so all-wheel drive, good performance, and a reasonable amount of creature comforts are all par for the course.
Family Sedan For Eco-Conscious Dads: Chevrolet Bolt EV
MSRP: $37,495
The Bolt EV isn't necessarily a traditional sedan — it does have a hatchback after all — but it has four doors and can do things that would shock most drivers of "eco-friendly" cars. It handles well, is surprisingly fun to drive, and gets more than enough mileage to ease any "range anxiety" you might have about leaving home in an electric vehicle. Sure, there are other electric cars on the market, but they're either nowhere near as engaging (see: Nissan Leaf), can't go nearly as far without also using gasoline (BMW i3), or can't be had without waiting for at least a year before you take delivery (Tesla Model 3). In a very real sense, this is the first electric vehicle aimed at the mass market that's truly ready for prime time.
Family Sedan For Dads Who Love To Drive but Need a "Responsible Car:" Honda Accord (with a manual transmission)
MSRP: $25,780
Let's face it, the words "responsible" and "fun" are generally on opposite ends of the spectrum when it comes to cars. If you love to drive, it can be legitimately depressing to look at all of the choices on the market that tick the safety and financial boxes demanded of a growing family. Make no mistake — Accord isn't as dynamically rewarding as a BMW 3-Series, and no one's going to take a second glance as you pull up to the carpool lane. However, you can get it with a manual transmission and take back some of the control and driving enjoyment that is otherwise all-too-often lacking in the mid-size sedan segment, especially at the mid-$20,000 range.
Family Sedan For Dads Who Secretly Wish They Were Rally Drivers: Subaru WRX STI
MSRP: $36,095
If you grew up watching the world's best drivers prove their mettle on narrow dirt roads at breakneck speed, chances are Subaru's WRX STI needs no introduction. If you even occasionally see a gravel side-road and wonder, "what if," it can be an appealing option. When driving it, you realize it can take just about anything you throw at it — whether that's backroad shenanigans or Tuesday night dance lessons. There's really very little that Subaru's little sedan can't do, which makes it a pretty good deal at that price.
Family Sedan For Dads with Big Families: Tesla Model S
MSRP: $74,500
Tesla's Model S benefits from a lot of hype that tends to exaggerate the car's quality. Fit and finish is a consistent thorn in Tesla's all-too-inconsistent panel gaps. Its long-term reliability remains a considerable question mark, even according to Consumer Reports. Tesla's flagship sedan is righteously quick in a straight line, though, especially if you upgrade to the P100D. None of that is why it's on this list. The back seat area can fit three child seats, and if that's not enough to hold your brood, the rear hatch area (yes, this technically isn't a "sedan", but we're counting it anyway), can house an additional two rear-facing seats for children. That's something you simply won't find in other vehicles these days.
Family Sedan For Dads With Just One Kid: BMW M3
MSRP: $66,500
The M3 is one of those cars that needs no introduction. It has been the benchmark for combining luxury and performance for decades, and for much of that time it has been available as a bonafide four-door sedan. These days, it's only available with four doors (the two-door version is now officially the M4). It's also a 425-hp rocket ship that can hit 60 mph in 4.3 seconds and, in the hands of a skilled driver, obliterate nearly anything else under $100,000 when you take it to a race track. And if you have an M3, that's exactly where you should take it… and why it's perfect for the dad with just one kid — removing baby seats trackside is a major pain.
Family Sedan For Dads Experiencing a Mid-Life Crisis: Dodge Charger Hellcat
MSRP: $67,995
When it debuted the 707-hp Hellcat twins last year, Dodge sent a message to the rest of the automotive world: if you want a serene, comfortable, refined driving experience, look somewhere else. Hellcat is a rare example of engineers and marketers seeing eye-to-eye on a product. Both saw that the Charger, while a perfectly fine family sedan, wasn't going to win over the masses on price or tech features alone. Instead, they offered a then-unbeatable drag racing special that is the modern embodiment of the venerable muscle cars your parents grew up with.
There's just one problem: It's a brute of a car, and thus was never intended to be a primary family hauler. If you're recently divorced, however, there's no one to answer to, and this is still a car that looks, to the untrained eye, anyway, like an average family sedan. When you meet up to hand off the little ones, she'll wonder who gave you that silly grin you can't wipe off your face. And that is worth the price of entry.
This article was originally published on