The Best Family Pickup Trucks
Different dads need different trucks. Which one should you be driving?
by Aaron Miller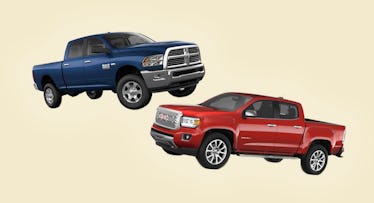 Arguably, the best pickup trucks have evolved more over the years than any other type of car on the road. They no longer resemble the agricultural workhorses that defined the class until well into the 1970s. Today, they're daily drivers, commuter vehicles, family cars, and even status symbols.
RELATED: If You Have To Buy A Minivan, At Least Buy The One That Keeps Topping The U.S. News And World Report Ranking
Don't believe it? Ford sold more F-Series trucks priced over $50,000 last year than all of Mercedes-Benz. Think about that for a minute.
RELATED: The Best New SUV For Every Kind of Dad
While some people legitimately need a truck (i.e. your contractor), others simply want one for any number of reasons. Sometimes it's because no other vehicle will suffice; other times because they want to look tough. Occasionally, it's because they enjoy helping friends move. Whatever the reason, there's a truck out there to fit any need, even for guys hitting both the daycare and the job site. These are five of best family pickup trucks for dads, moms, and kids.
Family Pickup Truck For Dads With Only One Kid (or Teenager): GMC Canyon Denali
Price: $39,205 MSRP
The GMC Canyon is a mid-sized family pickup truck, so it's somewhat better-suited to daily commuter duty, but it still has plenty of room in the back for a car seat. At a fundamental level, it's the same truck as its better known corporate sibling, the Chevrolet Colorado. Canyon Denali gets the nod here, however, because it comes with a host of interior refinements like power-adjustable heated seats and a seven-speaker Bose audio system. For the safety conscious, lane departure warning and forward collision alert are standard, as is GM's Teen Driver feature, which allows parents to monitor their kid's driving habits.
Family Pickup Truck For Dads Who Need a Truck for Work: Ram 2500 Tradesman
Price: Starts at $32,545 MSRP, but expect to pay closer to $50,000 if you want to maximize its utility
If you're just running back and forth to the hardware store or trailering landscaping equipment, almost any pickup will do. If your day job involves hauling serious gear, however, the Ram 2500 Tradesman offers a combination of layouts and options that can get just about any job done. And thanks to a crew-cab option that provides sedan levels of passenger space for multiple car seats or boosters, one of those jobs can be dropping the kids off at daycare. The optional diesel engine means it can tow nearly 18,000 lbs., and it can be had with an eight-foot bed to fit whatever load you moving on Monday.
Family Pickup Truck For Dads Who Love to Camp: Toyota Tundra Platinum
Price: $47,080 MSRP
Sure, Toyota includes a bunch of advanced safety features in every Tundra, but that's not what makes it such a great vehicle for an outdoorsman. Neither is the Platinum's leather heated and ventilated seats or available JBL sound system. The sell here is the rear window, which slides down, essentially opening the rear into the bed. Which means if you put a camper in your truck bed, you're talking built-in air conditioning. Even if you don't, lower the rear window and open the available moonroof, and the experience is the next best thing to sleeping under the stars.
Family Pickup Truck For Dads With a Full Family: Chevrolet Silverado 1500
Price: $28,085 base MSRP, but expect to pay closer to $55,000 before you're done checking boxes
Chevrolet's Silverado runs the gamut from fleet-level work truck to family-outing-to-the-mall warrior. There are plenty of different packages available to suit virtually any need (and/or number of kids or car seats), but with the LTZ Plus package, you also get standard features like a great sound system, heated steering wheel, and the ability to start your truck remotely, allowing its dual-zone automatic climate control to get everything nice and cozy. Optional leather heated and ventilated front seats and a rear-seat entertainment system for the kiddos is simply icing on the cake here.
Family Pickup Trucks For Dads Who Like To Tow Stuff: Ford F-150 Lariat
Price: $44,645 MSRP, but realistically, expect to pay $55,000 to get the right features
As noted above, Ford sells a lot of F-Series trucks. In fact, it's been the best selling truck on the planet every single year for the past four decades. The reason they remain so popular is because Ford includes features no other trucks offer, especially for owners hauling campers or boats. For example, the stop-and-go cruise control works even when you're towing a trailer, and the blind spot monitoring system can be adjusted to account for the entirety of the boat or camper. Throw in extra features like a knob on the dashboard that lets you steer in reverse by looking at the rear-view camera and "driving" your teardrop or boat in whichever direction you want it to go, and you basically have the perfect truck for dads that want to look like a pro when they arrive at the lake.
This article was originally published on