The Best Beard Trimmers for Taming Your Stubble
Don't let things get too hairy.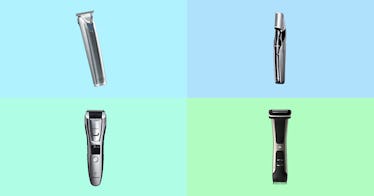 Guys with beards, guys who want beards, and guys who longingly dream of beards all should own a beard trimmer. Even the beardless? Yes. Because the best beard trimmers for men can and will double as the best trimmers for balls, butts, and other hard-to-reach thickets. (Just clean the razor between uses, guys!) Learning keep your fur under control takes a little effort, and that's where owning a quality beard trimmer, ball trimmer, or, if you must, manscape trimmer comes into play. The right tool allows you to sculpt, shape, and shave your scruff, as well as any other body hair, with minimal, if any, nicks, cuts, or unsightly patchy spots that make you look like an in-progress Chia Pet.
"You want a beard trimmer and clipper to help you keep your lines nice and clear," says Genevieve Bochanty, the director of brand experience at the Art of Shaving. "You should follow the lines and it depends on the shape of your face."
Bochanty is very matter of fact because this is a very matter of fact rule. You need a, sigh, manscaping trimmer or beard trimmer and it should have a battery that holds a charge for at least 45-minutes to an hour, that has high-quality blades, and that makes it easy to swap out combs and heads. Most quality trimmers these days come with a wide array of edgers and other such attachments that will allow you to keep all your hair under control. And of course, the trimmer should work as well in the shower as out of it, to provide you with maximum flexibility. And because hair grows in other areas aside from your face or head, get a trimmer that can handle any manscaping needs you have.
The Best Beard Trimmers
The Best Ball and Body Hair Trimmers
Every product on Fatherly is independently selected by our editors, writers, and experts. If you click a link on our site and buy something, we may earn an affiliate commission.
This article was originally published on