The Best Black Friday Deals on Toys and Games
Technically, it's called 'Black Friday Week' now. And it starts on Sunday.
by Dave Baldwin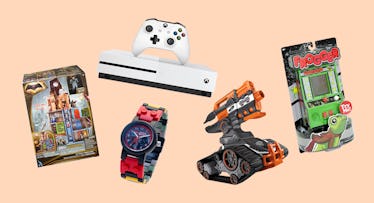 Don't look now, but Black Friday is almost here, and with it Black Friday toy deals. Some companies, calling it "Black Friday Week," are actually rolling out some of their deals as early as this Sunday. Stores like Toys 'R' Us, meanwhile, are staggering the Black Friday games and toys savings ⏤ offering some deals from Sunday to Wednesday, some on Thanksgiving evening, and still others at midnight on Black Friday.
RELATED: The Best Black Friday Deals on Diapers, Strollers, and Kids' Clothes
On one hand, it means you don't have to stand in front of the Best Buy at 3 a.m. anymore. (You'll always have the memories, right?) On the other, you do have to pay attention all week to when certain things go on sale. To help you out, we put together this list of the best deals on the hottest new toys. It includes crazy savings on kids cars, Nerf blasters, Lego playsets, video games, and even Rock 'Em Sock 'Em Robots. Yes, they still sell them.
1. Target is rolling with some pretty big 'Doorbuster' deals this year including $30 off the HexBug R/C Robot BattleBots Arena, half off the BLACK+DECKER Work Bench ($30), and a whopping $100 off the Jetson Beam Electric Scooter, which usually rolls for $300. Also, 50-percent off board games!
2. Starting this Sunday (and ending Wednesday at 9 p.m.), the NERF N-Strike Elite Terrascout Remote Control Drone Blaster is only $100 at Toys 'R' Us. It's part of the company's pre-Black Friday deals that also includes the Playskool Friends Sesame Street Love2Learn Elmo doll. Normally $70, they're discounting it 65 percent to $20.
3. For the builder in the house, the classic 568-piece K'NEX Thrill Rides-Kraken's Revenge Roller Coaster is getting a big 40-percent price cut on Amazon ⏤ it usually retails for $50.
4. Or for the future computer programmer, Primo is taking 25 percent off its screen-less coding Cubetto toys, which start at $225.
5. Traditionally, some of the biggest Black Friday deals are on ride-on cars and motorcycles ⏤ this year is no different. Target is selling Rollplay Kids' BMW Motorcycle and Kid Trax Custom Coupe for only $85 each (regularly $150), while Toys 'R' Us is knocking $150 off the Kid Trax Disney Mickey Mouse or Minnie Mouse Hot Rod Coupe ($200) and the Power Wheels Boomerang, which normally runs $350 but is selling from 5 p.m. to midnight on Thanksgiving Day for $250.
6. Air Hogs Star Wars X-Wing vs. Death Star Rebel Assault drones normally fly out of stores for $130. Somehow, Amazon is finding a way to let them go for a paltry $42. The force is strong with that deal.
7. Several stores are marking down the new Xbox One S but Microsoft.com is selling it directly for $189, reportedly its lowest price ever. They're also knocking $50 off bundles that include Xbox Game Pass and Live Gold subscriptions, as well as $20 off games like Halo Wars 2, Forza Motorsport 7, and Gears of War 4. Speaking of bundles, Best Buy is unloading the Xbox One S (500GB) Madden 18 package for $229.99, and it includes an extra controller.
8. Or, if you're more of a PlayStation family, Best Buy's also taking $100 off the PlayStation VR Gran Turismo Sport bundle. It's yours for $300.
9. Weirdly, JoAnne Fabrics sells a handful of retro toys from your childhood, including Lite Brite, The Magic 8 Ball, Frogger, and Rock 'Em Sock 'Em Robots. The 8 Ball's marked down to $9 while the other three ring it at $21.
10. Also odd, Home Depot will reportedly be selling Hot Wheels cars for $.69. Between that deal and JoAnna, it almost feels like 1986.
11. LEGO's exclusive Black Friday deals start November 24 at midnight and will include a whole bunch of Batman sets, including $70 off the Batcave (down to $200), Batgirl's Secret Bunker for $36, and a Joker mask for $8. Also, free shipping.
12. And speaking of Batcave, Walmart is selling the towering DC Comics Batman vs Superman Ultimate Batcave Playset for $50. It was $100.
13. And staying on the movie theme, Walmart is also knocking half off of Hasbro's BB-8 droid, marking it down from $60 to $30.
14. STEM Toy maker, Pai Technology, is kicking its Black Friday deals off November 20 (and running them through December 1). Expect $50 off Augie The Coding Robot ($150) and $20 off the Paiband ($50), a kid's tracker that encourages active play.
15. And for the younger kids, Amazon is offloading prime Melissa and Dave and Crayola merchandise for 30 percent off, although it's unclear what exactly will be on sale. You're also in luck if your kids are into Paw Patrol ⏤ it'll be marked down too.
This article was originally published on