The Best Toddler Baseball Equipment & Gear for Little League
From bats to gloves, here's everything you need.
by Liz Newman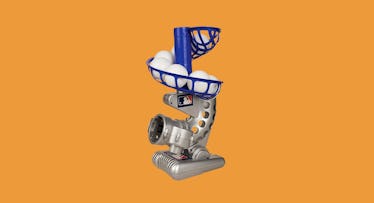 Proper baseball equipment is a must if you're raising the next Derek Jeter or Dot Richardson. Sure, kids can use a wood stick, in a pinch, but investing in essential baseball gear like a bat and glove is worth your time and money. The best toddler baseball gear instills a love of the game in youngsters, and considering that baseball is America's oldest pastime, teaching kids how to play is both a paternal and a patriotic duty. Improving a young player's skills requires two things: proper instruction and a crap ton of practice (It's all about the muscle memory, son). Assuming your kid's coach knows what he's talking about when it comes to proper batting stance and slider-throwing, this baseball equipment and baseball gear for kids will help your Little Leaguer put it all together in the backyard.
It's also important to know that as of January 1, 2018, USA Baseball implemented new bat requirements that impact 14-and-under youth leagues. That means that bats bearing the 1.15BPF stamp are no longer approved for use in these leagues; you must have a bat that is marked USA Baseball.
Every product on Fatherly is independently selected by our editors, writers, and experts. If you click a link on our site and buy something, we may earn an affiliate commission.
This article was originally published on