The Best Part of the Batman Movie Is Now a 1,360-Piece LEGO Set
You don't have to be a billionaire vigilante to own this Batmobile.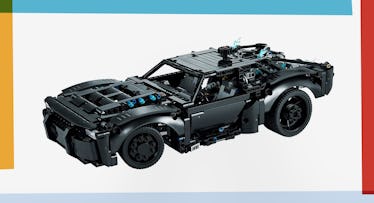 If you've seen Matt Reeves' The Batman, you may have been wowed by Robert Pattinson's psychologically damaged take on the titular hero (holy emotional scarring, Batman!). But some say that the Riddler's machinations were a bit confusing. So what if the movie was a little convoluted? Check out that new Batmobile! Yes, the jet-powered muscle car in this latest iteration of the comic hero looks like a mashup between Fast and the Furious and Mad Max. It's a readymade lust-worthy collector's item. So, no surprise, it's a LEGO set you're going to want in your home.
This 1,360-piece kit follows the design notes of Lego's other Technic auto kits, with rubber tires, opening doors and hood, functional steering wheel, rear differential, and a replica engine inside. What makes this kit stand out are the two light bricks that are included. A yellow light brick illuminates the grille, while a red light brick gives the transparent rear engine a sinister red glow. A transparent spinning flame on the exhaust provides a satisfying finishing touch.
This follows the releases of the more elaborate Creator Series Batmobile from 2019, a 24-inch-long set made up of 3306 pieces and took several days to build. This new Batmobile comes close at 17 inches in length, but with fewer than half of the pieces, should take significantly less time to construct. Plus, at $99.99 (versus the 1989 Batmobile's $249.99 sticker price), it's a bargain for a set this size.