The Autohome Air Top Tent Sets Up In Less Than 10 Seconds
Perfect for your next family expedition
by Dave Baldwin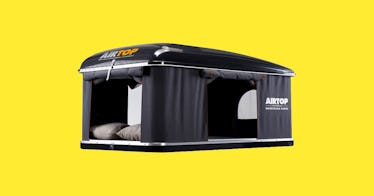 Camping fact: The faster the tent gets set up, the sooner the outdoor fun can begin. And with the Autohome Air Top, a sleek Italian-made rooftop car tent that sleeps three, the fun begins eight seconds after parking at the campsite.
Strapped the roof rack, the Autohome Air Top looks like any other aerodynamic rooftop cargo carrier, just slimmer. It stands a foot tall, measures 7-feet long by 4½-feet wide and mounts atop almost any vehicle ⏤ even smaller cars like a Mini Cooper. It boasts a double fiberglass shell and weighs around 130 lbs.; so, it's light, but unless you buy their ceiling lift, it'll still take a buddy to help install before the big trip.
When open, the Autohome Air Top looks more like a boxy, three-foot-tall coffin. That said, it's got plenty of room and comes standard with a comfy 6-foot, 8-inch-long mattress made of 3½-inch thick closed cell foam. It also offers campers stunning 360-degree views of either the surrounding landscape (and/or campground parking lot), thanks to both side and rear doors, and a front window. The Autohome Air Top is made of a three-season Dralon fabric (although a winter hood is available for extra insulation), and getting in and out is as easy as climbing the accompanying alloy ladder. For the kids, it'll be like sleeping in a treehouse.
The beauty of the Autohome Air Top, however, is obviously in how fast it opens ⏤ under eight seconds. Simply unfasten the latches and let the four gas-ram powered lift arms do the work. No buttons to press, no poles to connect, the tent simply pops up and is ready to go. If you still want the feel of setting up a tent, you can opt for the additional changing room that attaches to the side and extends to the ground.
The Autohome Air Top starts at $3,199 and comes in two sizes (small for two adults, medium for adding a kid) and two colors: standard white/grey or a black/carbon model known as the Black Storm ⏤ also what you'll have no trouble weathering now that you're sitting way off the ground in your new Air Top tent.