The August Smart Lock Is Basically a Doorman For Your House
Keyless entry, across-town access, and a handy app make this our new favorite.
by Jon Gugala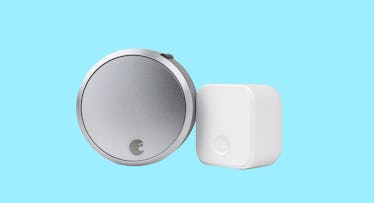 Smart locks, like the name suggests, make home security that much more seamless. And one standout in the category is the August smart lock
Everything, from your phone to your car to your home itself, is getting smarter. With this in mind, a must-have for any new product you buy should be its "intellect" as well as its ability to play nice with the rest of your smart lifestyle. It's for these reasons why we've fallen hard for August Smart Lock Pro + Connect, which takes your front door to a whole new level.
Reason one for our obsession: You don't have to be a locksmith to install it. Just remove the inside backing to your existing front- or back door deadbolt and the Smart Lock Pro slides right on. Assembly time is supposed to be 10 minutes, but we found it much quicker.
Once installed and with the proprietary app downloaded to your iOS or Android device, you now have a wireless key with you wherever you go. Have to let the dog-walker in? Simply tap a button from across town while waiting in line for a latte. You can give each member of your family a unique code for entry, and you'll know when your kids get home from school because you can track it on the app.
The app also allows you to grant temporary access for a few hours to a few weeks, providing a means of handling home business even when you're at your actual business. And it takes all the hassle out of having folks stay at your place and finding themselves locked out.
Another handy feature is a sensor-like lock and unlock feature, which can be turned on and activated when it connects with your smartphone's Bluetooth. When you approach your door, it unlocks. Conversely, set it to lock when your smartphone—and you—are out of range as a means of a digital concierge. At its most practical application, gone are the days of dropping an armful of groceries to fiddle with your keys.
The August smart lock has two-factor uses Bluetooth Energy (BLE) technology encryption, as well as an additional encryption mode, and has a lost-phone feature that lets you disable the app on the product's web site. You can also add the smart keypad (sold separately) to create unique entry codes to unlock your August without a traditional key or phone.
Like any good smarthome device, it's compatible with all the heavy hitters, including Amazon's Alexa, Apple's Siri, and Google Assistant. As a bonus, it's also Apple HomeKit-ready.
If you're smarthome-curious or already an enthusiast, the August Smart Lock Pro + Connect is raring to go, integrating seamlessly with all of the big players in the market while remaining incredibly easy to install yourself. It doesn't take a genius to know that this device just makes sense.
Every product on Fatherly is independently selected by our editors, writers, and experts. If you click a link on our site and buy something, we may earn an affiliate commission.
This article was originally published on