The Best Kid-Sized Go-Karts, ATVs, And Audis (Plus A Damn Monster Truck)
by Jeff Foss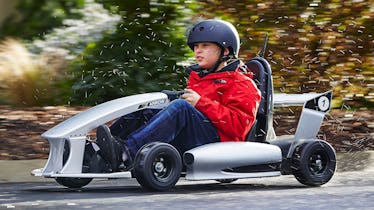 As a father, one of your primary responsibilities — nay, duties — is to make the neighbor kids jealous (and their parents anxious) by filling your garage with loud, expensive, borderline obnoxious "ride on" toys. At the top of that list are go-karts, electric scooters, battery-powered cars, and anything else that you will have to chase frantically after one day. Now there are more riding toys than ever (some of which almost cost as much as a Maybach). If you want your kids to roll out in style, here are your best bets.
Radio Flyer's Tesla Model S
For only $71,000 less than the grown-up model, your 3 to 8-year-old (who weighs less than 81 lbs) can zip around the neighborhood in a miniature, battery powered replica of the Tesla Model S. The base model's equipped with all the bells-and-whistles that kids have come to demand in their luxury vehicles: Forward and reverse, a trunk, a working horn and headlights for night riding, and a sound system/audio jack. But what you're really looking for in a cul-de-sac cruiser is a fast-charging, lithium-ion battery that lasts way longer than the Barbie Corvette.
Radio Flyer's Tesla Model S For Kids ($499)
Razor Crazy Cart
Drifting gets downsized into a kid-sized package with the Razor Crazy Cart. This compact skidding machine is designed to fishtail like a carp, and it can slide sideways or backward with a yank on one of the drift bars (picture tiny E-brakes on either side of the seat). The cart itself is on the lighter side at just 55 pounds, tops out at 12mph, and lasts 40 minutes on a single charge. An anti-tip front caster wheel makes it stay rubber-side down. Watch your ass, Wario.
Toylander I
This rugged four-wheeler has "birthday present from Grandpa" written all over it. Based on the 1948 Land Rover Series 1, the Toylander can carry a driver and 2 passengers over variable terrain (read: neighbor's flowers) with ease. Sure, it arrives in a kit and can take between 40-60 hours to assemble, but the payoff is a one-of-a-kind rig with authentic 4-wheeling details like a folding windshield, pneumatic tires, a sturdy swing axle, and a functional tailgate. Sexy Elmo mudflaps sold separately.
Actev Arrow Smart-Kart
Actev is a Silicon Valley go-kart startup looking to be the "Ultimate Driving Machine" for those who just learned to spell BMW. The Arrow Smart-Kart has a rigid steel frame, 2 independent 120W electric motors, obstacle avoidance technology (remember, this is a go-kart) and a contoured seat with dual speakers. Most striking is the fact that parents can control the cart via the mobile app. In other words, if Junior guns it for a busy intersection, the engine can be instantly disabled. Or, as your like to call it, the "buzzkill switch."
Kid Trax Audi A8 Spyder GT
With LED headlights, a racing-style bucket seat, working FM radio, slick spoiler, and all kinds of authentic Audi details, the Kid Trax A8 Spyder GT is the perfect ride for the mid-preschool crisis. Unlike a real Audi, its max speed is 2.5mph — or roughly the speed of you sharing a narrow sidewalk with a tiny vehicle. It's an entry-level option for ages 3 and up, but maybe one day, if you wish really hard, it will grow up to be a big car.
Kid Trax Audi A8 Spyder GT ($200)
Plyfly Go-Kart
The Plyfly is a Pinewood Derby-style go-kart that you snap together by hand (preferably like a euphoric Boy Scout while your family looks on, bewildered). It arrives in 3 boxes – one with the deconstructed wooden frame, one with the fully constructed engine, and one with the hardware — and it can be assembled in a few hours. The 2.5-horsepower model goes 17 mph, while the 4-horsepower model tops out at 25 mph. Go earn that "Involved Dad" merit badge.
Razor SX500 McGrath
Jeremy McGrath was like the LeBron of motocross back in the '90s, and the Razor SX500 electric dirt bike was designed with his flawless riding style in mind. The twist-grip acceleration control, hand-operated disc brakes, and dual suspension give it an authentic dirt bike feel, and your kid can rip continuously for up to 40 minutes on one charge. Or until they really hurt themselves.
Go-Bowen Electric Sahara X ATV
This pint-sized ATV has a key-activated governor to manage speed, so your kid can graduate from you walking alongside (under 5 mph) to a brisk jog (up to 10 mph) as he or she gets more confident. With 2 hours of continuous runtime, this thing can cover a ton of ground. It's aided by rugged 4-wheeling features like off-road tires, full suspension, steel chassis, chain drive, and disc brakes. Better give those kids over in the sandbox a heads-up.
Go-Bowen Electric Sahara X ATV ($650)
Infento Constructible Ride
There are 2 kinds of dads: Those who recoil in horror at the phrase "some assembly required" and those who say "challenge accepted." For the latter, there's the Infento. This fully modular kart system arrives at your house in a giant kit, IKEA-style. Then you put it together while drinking beer and cursing. The pieces can be configured into several different karts, scooters, and sleds. And, as your kid grows, you can purchase all kinds of add-ons to keep up with his or her interests. Unless they're no longer interested in being awesome.
Infento Constructible Ride ($TBD)
Mini Monster Truck
Instead of buying a brand-new Porsche 911 Turbo for yourself, or just 8 Kia Souls, consider dropping $125,000 on a mini monster truck for your child. This rig is a scaled-down version of the real thing: 4-cylinder engine, 2-speed transmission, 4WD, hydraulic steering, winch kit, Kicker speakers and nitrous oxide boosters for instant acceleration over jumps. (Oh yes, it's real.) Your kid will be forever indebted, and you may be forever in debt, but nobody will ever accuse you of being a cheapskate. Or sane.
This article was originally published on