The 7 Best Parenting Podcasts You Should Be Listening To
Because you can't read parenting books when you're driving.
by Drew Wood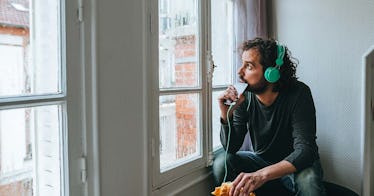 Not knowing answers to all the great parenting mysteries sucks, but reading all those parenting books in hopes of finding them sucks more. If you're in the car (likely) or getting in good workout (less likely), good news: you live in the Golden Era Of Podcasts, when anyone with a microphone and an opinion can broadcast straight to your smartphone. Most of these people should be ignored, but some of them are worth hearing, and some of those people are parents. Download these parenting podcasts and you just might learn a thing or two without ever dealing with the written word again.
RELATED: The 23 Best Podcasts For Kids That Adults Will Like Too
Best Parenting Podcast If You're Still Interested In Sex
The Longest Shortest Time
Frequency: Every other Wednesday
Duration: Under 30 minutes
Produced by New York City NPR affiliate WNYC, this parenting podcast occasionally reels in nationally known guests like sex columnist Dan Savage. The regular programming is a mix of practical topics (parental anxiety, book recommendations), wild first-person parenting stories, and sex after babies — there's a lot about sex after babies. Host Hillary Frank is a perfect blend of NPR studiousness and cheeky hipster.
Best Parenting Podcast If You Like To Shop (And Think While You Shop)
SPAWNED
Frequency: Every Wednesday
Duration: Under 30 minutes
Liz Gumbinner and Kristen Chase, the moms behind Cool Mom Picks and Cool Mom Tech, recently added Cool Mom Podcast to their list of titles. SPAWNED, on Slate's Panopoly podcast network, is only 5 episodes old, but Gumbinner and Chase show range well beyond their (usually nails) product recommendations. Recent topics include gendered toys and playdate politics and, if you just want product selections in audio form, they have those, too.
The Best Parenting Podcast If You Listen To A Lot Of NPR
Mom And Dad Are Fighting
Frequency: Every other Thursday
Duration: Under an hour
For over a year-and-a-half, Slate's news director, Allison Benedikt, and culture editor, Dan Kois have batted around exactly the kinds of topics you'd expect Slate editors to bat around: racial issues in schools, vaccine debates, gender, and other hobby horses of Left — they just do it through the prism of parenting. If you watch a lot of The Daily Show or Real Time With Bill Maher, this is your podcast.
The Best Parenting Podcast For Long Car Rides
Saturday Morning Cereal Bowl
Frequency: Every other Saturday
Duration: 2 hours
A regular show on WAWL ("Rockin' Chattanooga 24 hours a day!"), SMCB is two full hours of kids music that doesn't suck. Even though the playlists regularly features bands with names so absurd even your kid might balk — looking at you Casper Babypants and Gustafer Yellowgold — the songs are smart, funny, and more musically sophisticated than anything you'll find from Kidz Bop. If you're still clinging to the idea that you can turn your 6-year-old into an Arcade Fire fan, there's nothing for you to see here; for everyone else, turn it up.
Best Parenting Podcast If You Can't Get Enough Of Adam Carolla
For Crying Out Loud
Frequency: Every Monday and Thursday
Duration: About an hour
Ever wonder what Adam Carolla's wife is up to these days? No? Too late — now you know that, since 2012, Lynette Carolla's been dropping a parenting podcast with friend, fellow mom, and humorist Stefanie Wilder-Taylor on her hubby's podcast network Carolla Digital. Although the perspective can be a tad mom-ish, with frequent guests like David Allen Grier and Ralphie May and topics like "F-You Brian Williams" and "Tantric Massage" it's got ample reason for dads to tune in, too.
Best Parenting Podcast If You Need To Chill Out
Zen Parenting Radio
Frequency: Every Tuesday and Friday
Duration: Under an hour
Go ahead crack jokes about the name; the parenting podcast is hosted by the husband and wife self help and spirituality super duo of Cathy Cassani Adams and Todd Adams. For every heady topic like "Equal Justice And Quantum Entanglement," there's something a little closer to the "things you'll actually understand" end of the spectrum — like "Who Lies More, Men or Women?" (spoiler: it's women). The Adams' approach is one part emotional/spiritual, one part analytical/logical, and the dynamic between the 2 of them frequently produces legitimate insights on the modern parenting condition. Also, they have really, really soothing voices.
Best Parenting Podcast If You're A Midwestern Parent
Pratfalls Of Parenting
Frequency: Every Tuesday
Duration: About an hour
An interview show hosted by unassuming (but multi-talented) Minneapolis actor and comedian Levi Weinhagen, Pratfalls Of Parenting has a distinctly local vibe that covers decidedly universal topics. It's a bit like a Minneapolis salon, where the city's musicians, artists, chefs, and personalities stop by to talk about things like teaching kids music or having children unexpectedly. Think: Marc Maron, if you didn't know any of the guests and the host was funny but really polite.
This article was originally published on