The 4-Season Give'r Is A Rugged Leather Glove To Replace All Other Gloves
Shake hands with your campfire.
by Dave Baldwin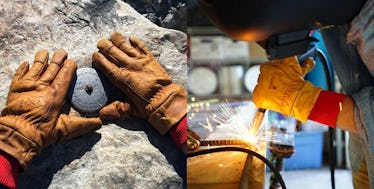 Sure, you could throw any old leather work gloves on your holiday wish list, and you'd probably be fine with the pair you got. But what happens when your kid throws their favorite action figure in a roaring campfire and you have to go in after it? Or your snow-shoveling robot knocks off early and you're stuck outside in -20 degrees. How are those ordinary gloves holding up now? Answer: Not as well as a pair of these badass handwarmers.
Designed to take the place of any number of different types of gloves (work, ski, gardening … opera), the 4-Season from Jackson Hole's Give'r are a new, heavier-duty iteration of their popular all-purpose Classic. Made from durable, 100 percent waterproof cow leather (with a breathable Hipora membrane), they rock reinforced fingertips, a Thinsulate insulated lining, and both an elastic cuff and leather skirt to keep the snow out and heat in.
They're intended to be used for everything from chopping wood, raking leaves, and welding steel, to snowboarding, ice fishing, and fighting Anakin Skywalker on the shore of raging molten volcano. On a serious note, Give'r claims that the gloves can actually handle temperatures as hot as 300 degrees; and you can wear them to pull a burning log out of a fire with nary a burn on you or the glove. Pretty much any activity that requires protecting your hands and the 4-Season is your move.
They're sized from XS to XXXL and can be customized with a protective "bombproof" beeswax coating, leash for skiing/snowboarding. You can even get your initials branded right into the leather — which is preferable to getting your initials branded into you.
This article was originally published on