The Best Beach Toys For Kids Under $30
You'll be building sandcastles like a pro.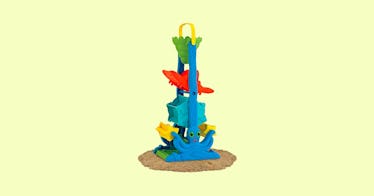 A day at the beach sounded bucolic before you have kids: You read a book, maybe cracked open a beer, and just reveled in the soothing melody of crashing waves. But when children enter the picture, you need a well-stocked arsenal of beach toys for kids to keep them active and entertained. Sand toys keep them busy, ideally for good chunks of time, and if all goes according to plan, you'll avoid hearing the dreaded, monotonous refrain of, "I'm bored."
And while building fanciful structures in the sand is both a rite of passage for kids, and a way for parents to bond with them, it's also developmentally beneficial. According to the National Association for the Education of Young Children (NAEYC) and child development expert Sarah Taylor Vanover, sand play promotes hands-on learning and sensory exploration. Plus, moving sand around teaches children about the concepts of volume and weight, because sand shifts and sand is heavy. It's also a great way to encourage creativity and collaborative play, because it's fun to build a sand castle. But it's triple the fun if you have other architects helping you dream up ideas and bring them to life.
Whatever you pick, make sure the toys are durable, lightweight, and easy to clean, and aren't sharp. Sand toys appeal to younger kids, and you don't want anything that doubles as a weapon.
Every product on Fatherly is independently selected by our editors, writers, and experts. If you click a link on our site and buy something, we may earn an affiliate commission.
This article was originally published on