The Coolest Toys From The 2017 International Toy Fair
It's only a matter of time before your kids are asking for them.
by Dave Baldwin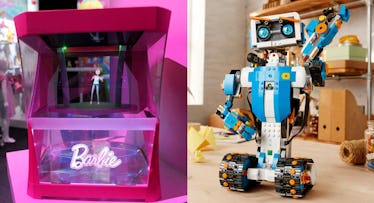 If ever there was a place that showcased just how much market share Santa Claus has ceded to the Kids Toy Industrial Complex, it's the annual International Toy Fair in New York City. Held for four days every February, it draws thousands of toy makers from across the globe eager to unveil pretty much every new toy and game on the planet. Or, at least, a couple hundred thousand of them. It's insane.
RELATED: The 12 Best Toys From The 2018 International Toy Fair
Eventually, you'll hear about many of the coolest. Probably in the toy aisle at Target. Definitely from a screaming child who doesn't want to wait until Christmas to own one. But just to give you a little heads up before that happens, here are ten of the top kids toys from the 2017 International Toy Fair.
Lightseekers Awakening
Trying to convey the full scope of TOMY/Play Fusion's new digital-meets-reality, role-playing game in one paragraph is tough, so here are a few abbreviated takeaways. One, the 'smart' action figures have built-in computers, can talk/vibrate, and interact with the video game on your tablet or smartphone ⏤ put a weapon in the figure's hand, it shows up on screen. Two, the figures can actually be used as controllers to play other on-screen games. And three, there's a 365-card, stand-alone physical game that doesn't require your tablet at all but can be incorporated into the video game using augmented reality.
Wonderhood Toys Pet Place and Townhouse
Launched in November by two moms determined "to inspire girls to design, build, and dream," Wonderhood's lineup of open-ended, STEM-friendly kits (for ages 4-10) come with illustrated 2-sided plastic building panels/connectors, figurines, and an activity journal. So far there's a Corner Shop and a Grand Hotel (which may or may not be located in Budapest) but the neighborhood is growing: this year they'll add a Town House (for budding architects who want to focus on high-end residential, naturally) and a 35-piece Pet Place complete with animals and a hamster wheel.
The beauty of Pixlplay, a colorful plastic case that turns your smartphone into a kid-friendly camera, is that it solves two problems at once. First, what to do with that old iPhone sitting in the desk drawer; second, how do I introduce my kids to screens without turning them into zombies? With Pixlplay, simply pop it in and send them out to become the next Ansel Adams. It's got a working shutter button, an easy-to-hold rubber grip, and clicking focus/film advance knobs that don't actually work but, hey, your kids don't need to know that. It also comes with activity cards and scavenger hunts designed to get them off the couch and out learning about photography.
(Pre-order for June)
Hello Hologram Barbie
"Help me Hologram Barbie, you're my only hope." That's exactly what your daughter might say to this new Barbie (assuming she's a Star Wars fan) right before asking her what the weather's like outside. Maybe, who knows. Either way, HBH is a talking 3D computer animation that sits on your kid's nightstand and brings Barbie to life. The hologram friend does everything from dab to downward-facing dog to telling you if it's raining, obviously. It also acts as a personal assistant not named-mom-or-dad that can both answer questions and schedule appointments ⏤ meaning your kid should never be late to family meeting again.
Nerf Modolus Regulator Blaster
Nerf's Modulus line was already about customization; it's designed to let your future gunsmith build the blaster they want/need from a bunch of different components. The new Regulator, however, takes it to a new level. In addition to mix-and-match parts, it also offers 3 firing modes ⏤ the first single NERF weapon to do that. Simply, flip the switch and the gun toggles between single-fire, burst-fire (3 darts at a time), or full-blown Rambo ⏤ a motorized automatic machine gun to clear the living room. The Regulator's clip holds 12 darts and the gun needs 4 C batteries to unleash its fury.
Lego Boost
Lego wants to give your kid a leg up on getting into a fancy engineering school. The Boost is their set of Bluetooth-enabled smart bricks that lets you build and program robots and other functioning models using motors, sensors, and an interactive coding app. Make a talking robot. A guitar. A space rover. A pet cat (what?). And even an automated production line that builds … more Lego toys. The creative toolbox comes with over 840 pieces, but it's totally compatible with the other hundreds of bricks currently lying around your living room.
Sago Mini Vehicles
Your kids love Sago Mini's open-play apps. They love their plush dolls and Jack's Diner portable play set. So, it's probably a safe bet they're also going to love Sago Mini's newest line of … vehicles! That's right, there's a fire truck with robot and raccoon firefighters, an ice cream truck manned by a penguin, and even an Oscar Meyer-styled Wienermobile.
Folkmanis Disney Puppets
Folkmanis has been making plush, not-creepy puppets that kids love for over 40 years, but this is the first time they've ever rolled out Disney characters. These new classics stand 22-inches tall, boast deep rich colors, and feature movable mouths and arms. Pluto even has an internal air bladder so if you squeeze his leg, his ear pops up! Mickey and Minnie are already on store shelves but Pluto and Donald Duck are due out later this year.
Kind of like a desktop version of those old overhead projectors from elementary school, FollowGrams lets kids project images onto paper so they can make picture-perfect tracings. Even cooler, they can project (and filter) any image taken with a smartphone or tablet using the accompanying app. There are step-by-step guides to over 50 pictures, so kids can learn to draw, as well as to the alphabet and numbers ⏤ so your kid doesn't end up with chicken-scratch penmanship.
UBTECH AstroBot
Building on the success of their popular Jimu MeeBot, the robotics gurus at UBTECH are back with AstroBot. It's essentially a Jimu on steroids, meaning it can now take one of 3 forms: humanoid, wheeled vehicle, or "treaded mobile robot with grab and lift action." It comes with 397 Pieces, 5 motors, and is still designed to help your 8-year-old eventually get a job with NASA.
This article was originally published on