That Amazing Babies 'R' Us Trade-In Event Starts This Weekend
Now you can replace an entire basement full of outgrown baby gear for 30 percent off.
by Dave Baldwin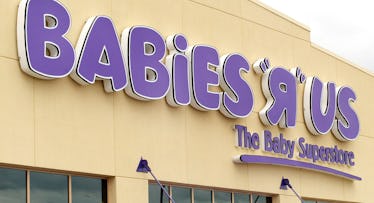 GETTY
Kids get bigger. Their car seats, strollers, and clothes do not. It's one of the reasons raising children is so expensive ⏤ continuously buying new gear does not come cheap. It's also why so many mark their calendars for Babies 'R' Us' big annual trade-in event, where you can pretty much replace an entire basement full of outgrown baby gear and furniture for 30 percent off. For those with pen in hand, this Sunday is the day to circle on the calendar.
The Babies 'R' Us Greater Trade-In officially kicks off on February 11 for loyalty members and Friday, February 16 for everybody else, and runs through Sunday, March 18. The concept remains the same: Parents bring in used, damaged, or potentially dangerous items to any Babies 'R' Us location not currently undergoing liquidation, and they'll "receive a 25 percent discount on a new gear or furniture item or the entirety of their clothing purchase." Use a Babies 'R' Us or Toys 'R' Us credit card and you'll receive a 30-percent discount.
Now, this year's Babies 'R' Us sale has some changes worth noting. First off, crib and toddler mattresses, once a no-no, are now added to the list of accepted trade-ins. Second, the stores are now also allowing trade-ins on gently used clothing and donating it to local charities. Since you still get the 25 percent discount, it's almost as if you're getting a charitable deduction on your taxes.
Already sold all your old baby gear at a consignment shop but still want to take advantage? Good, you're in luck. Even if you don't have anything to trade, you can still score 15 percent off everything on Babiesrus.com or one in-store Babies 'R' Us item through the duration of the event.
Admittedly, there is a lot of fine print in terms of which brands or products will be accepted. For example, you can't trade in Baby Jogger, Bugaboo, or Cybex gear. Just be sure to read through all the rules before loading up the minivan.
This article was originally published on