Tired of Margaritas? Here Are 6 Great Tequila Cocktails to Make This Summer
Ever make an Añejo Fashioned? You should.
by Nicholas McClelland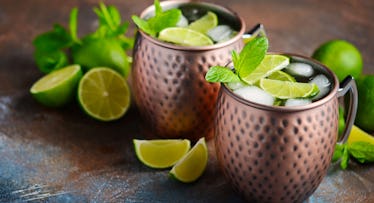 Summer is in full swing, so chances are you've already had a margarita or three. Yes, it's a a great drink, if made well, but it's become more than just a little ubiquitous. Come on, people. We can do better. In fact, tequila deserves some better company — at least from time to time. Contrary to popular belief, the agave spirit is extremely versatile. There are a wide variety of delicious bottlings to choose from and a number of excellent tequila cocktails to whip up. So, if you're ready to extract yourself from the margarita rut, here are six tequila cocktails, and the bottles to make them.
Paloma
A perennial favorite, the Paloma is a well balanced refreshing summer cocktail. While some recipes call for a sweet grapefruit soda, we prefer fresh squeezed juice. It's just better. We also prefer to start with a crisp blanco tequila like Patrón Silver. If the Paloma is not already in your repertoire, make this one first.
Ingredients
2oz Patrón Blanco Tequila
2oz Freshly squeezed and strained grapefruit juice1/2oz Freshly squeezed lime juice (juice from half a lime)Dash of simple syrup1-2oz club soda
Directions
Rim a highball glass with salt, fill with ice. Add tequila, juices and simple syrup. Top with club soda and stir. Garnish with a grapefruit wedge.
Bloody Maria
Yes, it's a Bloody Mary made with tequila instead of vodka. But using an aged Anejo, like this one from Espolòn — finished in ex-bourbon barrels — adds extra depth to the classic concoction.
Ingredients
2oz Espolòn Añejo Tequila3/4oz Ancho Reyes Ancho Chile Liqueur4oz tomato juice3 dashes for Worcestershire sauce2-6 dashes hot sauce (we prefer Tapatío)2 teaspoons horseradish1/2oz Freshly squeezed lime juice (juice from half a lime)
Directions
Rim a highball glass with celery salt (mixed with chili powder if desired) fill with ice, add all ingredients and stir. Garnish with a lime wedge and a celery stalk.
Tequila Mule
Simplicity, thy name is the mule. A perfect party drink, we recommend using Partida's Añejo as the spirit's tropical fruit and vanilla notes work well with the lime and ginger.
Ingredients
2oz Partida Añejo Tequila1/2oz Freshly squeezed lime juice (juice from half a lime)2-4oz Ginger beer
Directions
Some will shake all the ingredients with ice before pouring into a copper mug or cup, but we prefer to mix the tequila and lime over ice before topping with the ginger beer
Firing Squad
The firing squad is a fantastic cocktail to make in large batch for your next pool-side party. While the traditional recipe calls for grenadine, we like to substitute an organic cherry juice for a tarter drink. You can also add a little simple syrup to if you prefer. Casamigos Blanco makes a nice base for this cocktail thanks to its citrus and vanilla flavors
Ingredients
2 1/2 oz Casamigos Blanco Tequila3/4oz Fresh lime juice (the juice from about 3/4 a lime)1oz Cherry juice4-6 dashes of bitters
Directions
Shake everything over ice and strain into a glass filled with more ice. Garnish with a lime.
El Diablo
The base of this recipe is quite similar to the mule, but the addition of the creme de cassis makes it a cocktail of a slightly different feather. The black currant flavored liquor pairs nicely with a minty, herbaceous, and earthy spirit like 7 Leguas Blanco.
Ingredients
2oz 7 Leguas Blanco Tequila1/2oz Crème de cassis1/2oz Freshly squeezed lime juice (juice from half a lime)2-4oz Ginger Beer
Directions
Shake tequila, lime and crème de cassis over ice and pour over more ice. Garnish with a lime round on top.
Añejo Fashioned
Indeed this is a tequila version of an old fashioned (perhaps our favorite cocktail.) We recommend using a rich añejo like Casa Noble's. It's sweet, spicy and complex with notes that pair well with mole bitters and orange.
Ingredients
2 1/2oz Casa Noble Añejo Tequila4 Good dashes of mole bitters (Bittermens Xocolatl Mole Bitters)1- 2 dashes of simple syrupOrange peel
Directions
Muddle orange peel and simple syrup in the bottom of an old fashioned glass, pour in a tequila and bitters. Add a large ice cube and stir gently.