10 'Avengers: Infinity War' Toys Your Kids Will Love
We're in the long, painful period between the theatrical release of a blockbuster that you kids obsessed over and that film's release on Blu-Ray, with hours of special features to watch and plot points to deconstruct. The wait for the critically celebrated Avengers: Infinity War is especially painful because of its many surprises, all just waiting to... View Article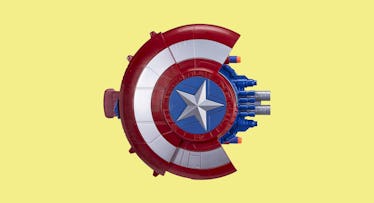 We're in the long, painful period between the theatrical release of a blockbuster that you kids obsessed over and that film's release on Blu-Ray, with hours of special features to watch and plot points to deconstruct. The wait for the critically celebrated Avengers: Infinity War is especially painful because of its many surprises, all just waiting to be rewatched and enjoyed again.
One way to placate your Infinity War-obsessed kids is with a toy or two from the film. It won't make the wait any easier, but at least they'll have something to do between now and then.
Marvel's Avengers: Infinity War Deluxe Figure Set
Part of the fun of the Avengers movies is seeing so many superheroes unite in one film. The same can be said of this set, which includes ten 3.75-inch figures of characters in the film. They're pretty basic, but if your kid is still deciding whom his or her favorite Avenger is it's good to have a variety of figures to choose from.
Marvel Captain America Blaster Reveal Shield
At first glance, this toy looks like a pretty straightforward plastic version of Captain America's iconic shield. Press the star in the center, however, and a few panels of the shield retract to reveal a Nerf blaster. It's a clever feature that does what seems impossible: make Nerf blasters even cooler than they already are.
Marvel Titan Hero Series Iron Man Combat Pack
Classic action figures are still huge sellers whenever a superhero blockbuster comes out. We like this twelve-inch tall Iron Man figure because it comes with ten different accessories, including three sets of armor for ground, air and arctic assaults, respectively.
Hot Wheels Character Cars 2018 – Marvel Avengers Infinity War – Groot
This die cut car is compatible with the Hot Wheels track you already own. For kids who are also obsessed with Hot Wheels, you can't do much better than cars inspired by characters from the film. We like the Groot model in particular (because, well, Groot), but they're available for all of the Avengers crew from Infinity War.
Hot Wheels Marvel Showdown Playset
The best way to use your Groot car is on this playset, which features a launcher that sends your cars into Thanos, eventually toppling him over. The set includes enough track for one approach, but there are three open slots to connect more. Set it all up and your kid will have tons of fun trying to get all of the cars to hit Thanos simultaneously.
LEGO Marvel Super Heroes Avengers: Infinity War The Guardians' Ship
This set is on the small side, at 69 pieces, but it still lets kids build one of the coolest ships in the Marvel Universe. It's a great pick for younger kids and less experienced builders.
LEGO Marvel Super Heroes Avengers: Infinity War Sanctum Sanctorum Showdown
This set is at the opposite end of the spectrum. At just over 1,000 pieces it's a serious set for a serious builder. Plus, it comes with five minifigures, including Iron Spiderman.
Marvel Avengers Gamma Grip Hulk Fists
Anyone who tells you they don't like Hulk Hands is lying. The bounce back you get when you punch off of things is enjoyable, and you don't even need to worry about hurting someone (that much, anyways). Unlike some versions of this toy, this one even lets you clench the fist when you become angry. You'll like these when you're angry.
Marvel Avengers: Infinity War Hero Vision Iron Man AR Experience
This is an awesome augmented reality toy that merges the real world and the world of the film. To use it all you need to do is strap a phone in the Iron Man helmet/headset and fire up the app. In no time you'll be playing games that look like they're taking place in the room in front of you. The toy can also track an included Iron Man glove that allows you to interact with the digital elements you will see on the screen (e.g. punching targets).
Avengers Infinity War Marvel's Stormbreaker Electronic Axe
Press a button on the handle of this plastic axe and sound effects inspired by the film play. It's a fun toy for them no matter what, but it'll only be fun for you if you have a kid who can resist the urge to whack everything and everyone in their path with it. Choose wisely.
This article was originally published on