7 Teething Necklaces That Treat Your Baby's Gums Right
Seven necklaces to help soothe your baby's gums.
by Hudson Lindenberger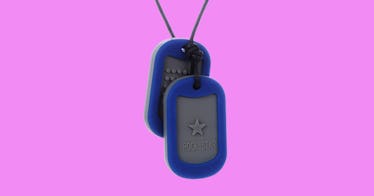 Teething is a challenge that all parents must weather sooner or later. Everything seems to be progressing smoothly until those first teeth begin to make their appearance around six months. While there are myriad options for helping soothe a child's teething, there's one thing that most people agree on: giving your child something to chew on while they endure the eruption of their pearly whites.
Enter the teething necklace — a wearable piece of jewelry made specifically to be gnawed on by babies. Teething necklaces are trendy at the moment, and if that's the road you'd like to travel down there are a few things to keep in mind. Experts recommend that you avoid teething necklaces worn by the child, especially the amber bead ones that are popular right now. According to the American Academy of Pediatrics, they can lead to strangulation and choking.
The best option is a teething necklace mom worn by mom or dad. The material should be contaminant free — no BPA's phthalates, lead, or cadmium. If made from silicone, which many are, it should be medical or food grade to ensure no unwanted contaminants make their way into your child's mouth. Wood beads are great as long as they are only treated with natural oils. You want to avoid metal chains — which are bad for teeth and can break — and instead opt for those made of natural fibers like cotton, leather, and such. Also: make sure your teething necklace has a breakaway clasp to ensure your neck doesn't get tweaked when its gnawing time. If they don't have one then make sure they are easy to slip on and off. As for cleaning they should either be able to be tossed in the dishwasher or sink.
The teething necklace market is wide and varied. But here are seven teething necklaces that we like— and think you and your baby will love.
Babies Teething Necklace
Simple, yet classy, this large pendant will look great with most outfits while offering instant relief for your child. Made from 100 percent food-grade silicone, it's contaminant-free and sturdy enough that it will stand up to the toughest of teeth. Dishwasher safe, it's easy to clean and can even be tossed in the freezer to offer more relief.
Peekaboo Chew Silicone Teething Necklace
This customizable necklace offers three styles and 24 different color schemes that ensure each necklace matches its owner's style. Made with a mixture of untreated wood and food grade silicone beads there are numerous surfaces for your baby to chew on. There is a breakaway clasp, too. Hand wash only.
BEBE by Me 'Harper' Teething Necklace
Made with a mixture of 16 soft, hard, and cushy Japanese food-grade silicone beads it allows your baby to search out the surface that works best on their sore gums. Adjusting the length is simple, there is a breakaway clasp, and cleans easily in the sink. There are two different color designs to choose from.
RubyRoo Baby Silicone Teething Necklace
Sure to add a bit of pizzazz to any outfit this elegant necklace from RubyRoo looks great and has a myriad of surfaces for your tiny one to teeth on. There's a breakaway clasp, each bead is individually knotted to stay in place, and it's made from 100 percent food-grade silicone. Even better" it can be tossed in the dishwasher or freezer, and the length is adjustable. Available in six different color schemes.
Kangaroo Care Apple Wood Mala Teething Necklace
Fashionable and functional this is a necklace that would look good on either Mom or Dad. Made from sustainably sourced Estonian apple wood each bead is hand carved and has not been treated with anything. There is a larger pendant on that works as both a plaything and perfect teether to gnaw away on. Each bead is individually knotted in place and it's hand wash only.
Itybity Baby Teething Necklace
With several different bead shapes and colors, this necklace will visually stimulate your child while he or she is in your arms. All of the beads are made from FDA approved food-grade silicone with each one knotted in place. There is a breakaway clasp and you can toss it into the dishwasher to clean. It even comes in its own storage bag to keep it away from any unwanted items when not in use.
Chewbeads Dog Tag Teething Necklace
Made from BPA free silicone, this dog-tag inspired teether offers up two tags for baby to play with and chew on as they battle to bust those teeth free. There is a breakaway clasp and it cleans simply with soap and water.
This article was originally published on