This Beautiful Leather Organizer Neatly Stores All of Your Gadgets
It's a portable home office.
by Ben Radding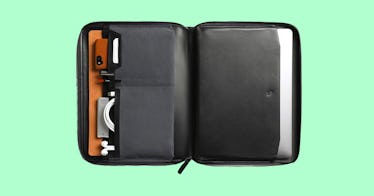 The Bellroy tech folio is many things: A laptop case, a tablet case, a stylus carrier, an all-in-one organizer. But above and beyond all that, it's a thing of pure beauty that every professional man needs.
First, let us backtrack a minute. Do you remember the humble trapper-keeper? That hallowed holder wherein, as a middle-schooler, you'd put all your notebooks, pencils, various doodads, and slap it with stickers? Frankly, we miss 'em. It sure was useful to have one spot where everything went and you could just pull it out of your bag. But carrying around a trapper-keeper as an adult man isn't, well, the most sleek look.
Enter Bellroy's gorgeous tech folio. It's what you might call an adult trapper-keeper—and we're head-over-heels for it.
Folios are a subcategory of bag, if you will, that slip into another bag. They're meant to carry everything you need for work in one spot, and most of them end up feeling and looking rather stuffed. Bloated, even. But not the tech folio, a leather zip folio where the key ingredient isn't just putting stuff in there, but organizing it.
It works like this: it has a dedicated sleeve for your laptop (Macbook Pro 13-inch or similar, none of the big boys), as most bags do, so that's good to go. Then it has several separate pockets for a tablet, some cables, your phone, two styluses or pens, a notebook, and more. The layout of the separate pockets—each sized according to its needs—provides a geometric miracle when it comes time to organizing everything and heading out the door. It all just goes where it needs to be.
Cheaper, flimsier folios might have a hard time adequately protecting their stored pieces, but the Bellroy is made from premium leather and has scratch-resistant linings, so it can stand anything you throw at it.
But just because it's slim and durable doesn't mean it's a dud to look at. Bellroy's Tech Folio scores all the points in the looks department, coming off as a total professional's grab pack. We mentioned the leather and how strong it is, but can't oversell how smooth it is to the touch and eye-grabbing it is to look at. Even the leather inside gets us excited—every inch feels premium, considered, and superb to the touch. There's no way it can go a whole work day without it getting noticed by someone.
We're all in on the Bellroy Tech Folio for all the above reasons, but it also shines outside of the workplace. If you travel a lot for work, it slips perfectly into any backpack or messenger without adding too much bulk, and you have unappreciated ability to take out your entire work space when you need it on the plane or train.
We wouldn't hesitate to say the tech folio is the complete package: a master organizer and a pleasure to look at. We're all in. Just, maybe, skip the outer stickers.
Every product on Fatherly is independently selected by our editors, writers, and experts. If you click a link on our site and buy something, we may earn an affiliate commission.