This Sleek Wooden DIY Teardrop Camper Is Your Summer Escape Pod
Sail the highways in this sleek, hardwood teardrop camper from the boat designers at Chesapeake Light Craft.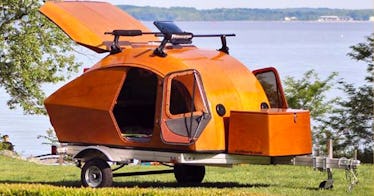 Escape pods aren't just the stuff of sci-fi plots — sleek metal eggs into which we bundle all our hopes along with the heroes, as they race through the corridors of a doomed spaceship or scramble across the crazy terrain of an inhospitable planet. If it feels like your household is also careening helplessly toward the sun, know that there's an Earth-bound answer to that fantasy of escape: Chesapeake Light Craft's teardrop camper trailer: a lightweight and eminently affordable escape pod that you can build for all the road trips and family camping adventures of summer 2021. There are other DIY teardrop campers, but CLC's stands out for the beauty of its design and the quality of the materials. This is the best teardrop camper kit out there.
Chesapeake Light Craft are best known for their wooden boat-building kits and classes, which they offer each summer at their longtime workshop in Annapolis, Maryland. CLC introduced the teardrop camper trailer in 2016, based on boat builder John Harris' design — you can see the maritime influence in the camper's streamlined hull-like curves. It's also as functional and space-savvy as the cabin of a sailboat, with big doors on either side, a 15-inch ventilation hatch, roof space for kayaks or bikes, and a rear locker that converts into a handsome galley kitchen (though you could customize the space to be almost anything). There's also space for a 12-volt electrical system, for powering lights, stereo, and charging stations.
CLC's Teardrop Camper Kit
CLC's kits are intuitive, well-crafted and accessible to people of all experience levels (a total novice, I built their Northeast Dory in my small Brooklyn apartment). Think of it as a giant 3-D puzzle — shipped to your house in a few boxes — that the whole family can help put together.
Building CLC's teardrop camper requires about a garage's worth of empty space, some basic tools, an occasional helper, and roughly 250 hours of effort — dedicate the next several weekends to camper-building and you can be on the road this summer. The kit includes computer-cut marine plywood panels that you stitch-and-glue together using copper wire, epoxy and fiberglass (CLC's marine plywood is milled from okoume, a renewable tropical hardwood). The base kit includes all materials and plans — or if you have more experience, access to lumber, and the necessary tools, you can order the plans alone for $170.
The finished camper is 8 feet by 5 feet, room enough for two adults to hang out or stretch out comfortably, and maybe a workable cozy space for some families with young kids. With any size group, though, it's the perfect adventure hub used in conjunction with a couple of tents. You can also buy CLC's Integrated Cargo Carrier, which boosts storage while fitting tidily beneath the camper. The completed teardrop camper is lightweight (under 600 pounds), so any car with a hitch can tow it. (It was originally designed to be hauled by a Mini Cooper.)
It will need to be bolted on to a trailer — which can add a few hundred dollars to the final cost — though almost any boat or flatbed trailer with the right dimensions will work. In the words of John Harris: "The architecture lends itself to fitting on just about anything with wheels."
Every product on Fatherly is independently selected by our editors, writers, and experts. If you click a link on our site and buy something, we may earn an affiliate commission.
This article was originally published on