Teach Your Kid How to Shred With the Loog Mini
During this week's Fatherly "Toy Review," our editor-at-large, Joshua David Stein, reviews Loog Mini Guitar, which is a three-string beginner guitar that makes playing music easy without dumbing down the sound. ADVERTISEMENT Just when you thought you had done everything you possibly could to ensure your kid grows up a vinyl-obsessed audiophile with identical musical... View Article
by Fatherly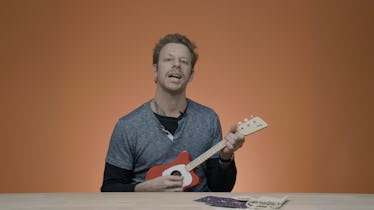 During this week's Fatherly "Toy Review," our editor-at-large, Joshua David Stein, reviews Loog Mini Guitar, which is a three-string beginner guitar that makes playing music easy without dumbing down the sound.
Just when you thought you had done everything you possibly could to ensure your kid grows up a vinyl-obsessed audiophile with identical musical taste to yours and a wing reserved in the Rock & Roll Hall of Fame, it hits you: Like all those hip musicians you can't stand, your kid doesn't play a damn musical instrument.
No need to worry, Loog Guitar has come to the rescue.
Loog's beginner basswood guitars have a slim three-string maple neck made for tiny hands. They are designed to make learning easy and come in two sizes: the Mini for 3-year-olds and up and the Pro for 8-year-olds and up. They measure 23-inches in length and are about the size of a ukulele.
While the Third Man guitars come fully assembled and ready to play, most Loogs are DIY so that kids can put them together. Moreover, every Loog Mini Guitar set comes with flashcards showing chord diagrams and the Loog App, which includes everything your future Jack White needs to start rocking out, including video lessons, a tuner, and a digital songbook so they can learn by playing real songs.
The Loog Mini comes in six colors and retails for $79. There are also accessories, such as straps, stands, wall hangers, and string refills, that you can purchase on the Loog website.