The Fully Customizable Taxa Mantis Is the 19 Foot Long Camper Of Our Dreams
It sleeps four adults, and has a pop-up roof for extra ventilation.
by Jon Gugala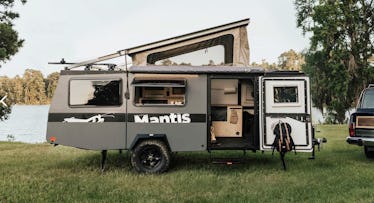 Sure, you could get yourself an ordinary, tired camper van. Because in those youthful days of yore you could bypass a camper trailer entirely and head out to the woods with a coffin-sized tent and a single bag of GORP, emerging days later completely fine. But, why?
With your growing family, the demands are greater—and bigger. To shelter your clan of budding outdoorsmen and –women, you may want to invest in Taxa Outdoors' Mantis, a lightweight, easy-to-use pop-up camper that's still big enough to comfortably house your growing herd.
Taxa Outdoors has overhauled this classic style, ditching and switching heavy materials to create a 19-foot unit with almost eight-foot ceilings that can easily house four adults and yet weighs just over 3,000 pounds. And you can park it in your garage.
Bottom line: Your averages trucks, SUVs, and even many four-wheel-drive cars can easily pull this into the backcountry.
Once you're out in Mother Nature, the Mantis really comes into its own. Home-life amenities like a combo water heater and furnace system, USB outlets, two-burner propane stove, LED interior lighting, and a gaping eight-foot patio awning ensure that, while not glamping, your family members are not far from their creature comforts. An optional refrigerator is a must for any camp-cooking adventures. The kitchen is made from birch wood, and has a sink, refrigerator and stove.
After a long day of hiking, biking, and exploring, an exterior hot-water shower quickly washes away the grime. Thanks to a 20-gallon fresh water tank and 22-gallon grey water tank, you can all take a turn. When it's time for bed, you and your partner stretch out on full-size bed, while the kids help transform the couch into two bunk bed-style singles. The Taxa Mantis is 19 feet long, seven feet wide, and nearly seven feet tall. And it has a cargo capacity of 980 pounds.
Zip open the pop-up fabric and mesh screening keeps out the bugs while allowing the wind through the trees to send your children to sleep. The next morning, over breakfast, you'll look out across the wilderness expanse, sip a hot cup of coffee, and wonder aloud how the previous generations did it. But there's little time for reflection. Camping is about the present, and your kids are ready for a hot breakfast.
Every product on Fatherly is independently selected by our editors, writers, and experts. If you click a link on our site and buy something, we may earn an affiliate commission.
This article was originally published on