This NASA-Inspired Camper Gets The Family Off The Ground, And The Grid
You can even tow it with your Camry.
by Dave Baldwin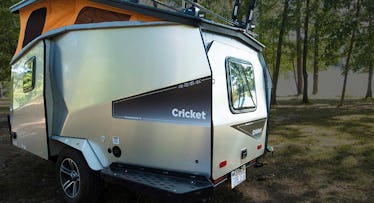 If you're one of those guys who spends every winter dreaming about buying a family camper and every summer waking up with a tree root in your back (and Junior's foot in your face), then perhaps this is the year you finally pull the trigger. If you do — or if you don't and just want to kill some time daydreaming at your desk — check out Taxa's new NASA-inspired 2017 Cricket Camper.
Here's what you need to know about the tow-behind, other than that it looks pretty darn slick rolling down the highway. One, it sleeps 2 adults and 2 kids, and everybody gets a bed. No need to ship your youngest off to a tent. Two, at only 15-feet long (you've driven moving trucks that were bigger) and 1,450 pounds, you can pretty much tow it with your Camry, or any other 4-cylinder vehicle. And 3, man oh man does it come with a view: 10 windows all told (4 swing, 5 mesh) including one 32-inch by 20-inch picture window certain to provide stunning panoramas of the campground bathroom.
There are 2 models available: the Camp and the Trek. Both come with under-bed storage, pop-up table, 120V water heater, and LED lighting, not to mention an electrical system that can go off-grid for 3 days. The Trek, which is a little more tricked out, also includes all-terrain tires, a roof rack, fully-enclosed shower tent, patio awning, and a fridge/freezer. Neither of them, however, come cheap. In fact, with a price tag that starts around $30 grand, perhaps this is the year you buy a better camping mattress. And well, keep on daydreaming.
This article was originally published on