Brace Yourselves: Tamagotchis Are Coming to a Smartphone Near You
The newest iteration of the game asks you to care for the tiny creature via your smartphone.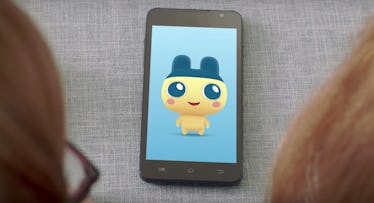 For a few, special generations, years before sex-ed class made them lug around breakable eggs, Tamagotchis were the first exposure to the complexities of parenting. Those virtual, Japanese pets lived their whole lives inside tiny screens and required constant attention, so if you inadvertently left your Tamagotchi on for the whole school day, you were S.O.L.
Now, Tamagotchis are about to make a comeback and a major Pokemon GO-esque leap into the smartphone era. My Tamagotchi Forever, the newest iteration of the handheld phenomenon, is set to be released in 2018 on smartphones and tablets. The free-to-play game brings back all the classic features of the original Tamagotchi, which first launched in 1996. You'll have to feed, clean, and entertain your little virtual creature, which now appears in updated, colorful graphics, happy and alive.
The biggest new feature has to be the integration of Augmented Reality (AR) into the app, which allows your Tamagotchi to appear right in front of you the same way you could see a Charizard sitting on the street in Pokemon Go! Considering that Tamagotchis infamously tend to die after enough neglect, the AR addition suggests that some kids might be waking up to expired Tamagotchis in their bedrooms. And, of course, mountains of poop (because, yes, these things do poop), which, as far as children's games go, is not ideal. But raising a Tamagotchi was always about facing difficult life-lessons.
My Tamagotchi Forever is already out for iOS and Android in Canada, and it'll be available to the rest of us at an unannounced date next year.
This article was originally published on