This Electronic Bumper Sticker Lets You Tell Off Drivers While You're At The Wheel
Safely express your road rage.
by Dave Baldwin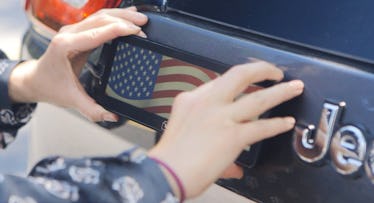 The biggest problem with bumper stickers (other than that damn glue), is that life changes and they don't: Your candidate lost, your honor student's failing 6th grade, you no longer think Virginia is in any way for lovers. Rather than drive around giving other motorists the wrong impression, however, there is the customizable Talelight electronic bumper sticker.
RELATED: The Best New SUV for Every Kind of Dad
Talelight's essentially a 2-inch by 8-inch electronic billboard for your bumper that lets you change messages ("stickers") using little more than a smartphone — no nail polish remover required. The high-res/lower-power LCD affixes using industrial-strength adhesive tape, connects to your car's internal USB jack, and syncs to the Talelight app via Bluetooth. All of that is worth repeating, by the way, just so you're fully informed. One, you have to run a cable from the device (on the outside of the vehicle) though the trunk to a USB port inside. Two, it sticks to your car using tape that, while road tested, is not criminal tested. You can't pop this sucker on and off with magnets when you go into the grocery store so, obviously, anybody who wants it can take it (although it only works for registered users, so the joke's on them!).
That said, it turns off with your car to save juice (and not attract attention in said parking lot) and holds up to 25 different messages. There are currently about 200 stickers available for purchase in their store (up to $3 each) — ranging from "Go Blue," to "More Cowbell," to "I Heart New Jersey." Or you can design/upload your own "Get Off My Ass" sticker and have it ready to go when the moment's right.
The obvious question in the end, though, is how much are you really willing to drop to let the world know you love the Atlanta Falcons on Monday, and International Dressage on another? If the answer is $130, then you're in luck, because that's what Talelight currently costs.
This article was originally published on