How to Take a Test Drive with the Whole Family
Your kids are huge assets when you're trying out a new family car. So long as you ask them the right questions.
by Vince Steveson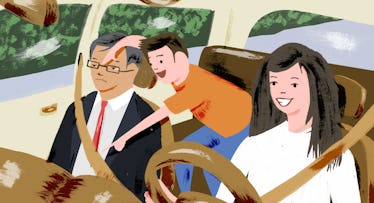 Jennifer Van Meter for Fatherly
Some advice: When buying a new car, you should absolutely, 100-percent take a test drive with your whole family. No, your kids are not going to give you all good advice ("I love the blue car because it's my favorite"), but they will weigh in on things that matter, like backseat comfort and the sound of the engine, that you might not otherwise realize. It's a matter of asking them the right questions.
"It's always important to test drive the car the way you'll use the car when you own it, and this is especially true when you have multiple personalities riding in and on the decision," said Daanesh Chanduwadia, who has been "car matchmaking" shoppers and arming them with buying strategies for decades. "It can also save you a lot of money: A car that seems too small when eyeballing it may be just right with everyone and everything in their place."
Here's what to look for when shopping for a new family car and what, specifically, to ask your kids to gain the most insight.
Turning Circle and Visibility
What you should look for: Easy-to-understand seat adjustments that enhance your view over the windshield, blind spots caused by large window pillars, heft and weight of steering at different speeds (parking lot versus highway).
What to tell kids: It's important to be able to see clearly out of all the windows.
What to ask kids: Can you see out the windows while sitting down?
Acceleration
What you should look for: Strong punch from the gas pedal from a stoplight in a loaded vehicle, and the ability to pass at least one vehicle without feeling nervous.
What to tell kids: Do you hear the sound of the engine revving? A strong engine doesn't always mean a loud engine.
What to ask kids: Does it feel smooth when I hit the gas pedal? Does it feel comfortable and safe when we're going fast on the highway? Is the sound of the engine too loud?
The Interior
What you should look for: Easy access to major controls without fussy screen operations, a quiet ride in front and back, plenty of storage compartments and power ports, and seats in all rows that are large enough to accommodate growing bodies over time.
What to tell kids: Touch the materials and see if they feel soft and nice. Try opening and closing the doors on your own.
What to ask kids: Is there enough space between you and your brother/sister? Can you figure out how to open the doors on your own? Can you buckle your own seatbelt easily? Is it quiet? (Sometimes, windows in the front row are double-glazed, while rear-seat occupants make do with louder ambient sound.)
The Trunk/Cargo Area
What you should look for: A wide cargo opening with a low load floor, seats that fold easily and lightly, power operation (if available), and the ability to stack strollers, sports equipment, and/or sundries and securely close the trunk or hatch.
What to tell kids: Just because a trunk has space, that doesn't mean it's easy to access. That's why we came to test it out.
What to ask kids: Can you reach in and grab your stuff without having to stand on tiptoes? Can you figure out how to fold the rear seats?
Once you've asked these questions reassess the vehicle. Ask your usual battery of questions to the salesperson, and then confer again with the kids
"As in life, a lot of what we overlook in the car selection process is observed by children," Chanduwadia said. He's right: The front and back rows are not necessarily created equal. Consider all feedback, with emphasis on your kids', particularly if a new vehicle fits or fails to meet your expectations.
"I've watched many parents rule out a car that has a third row that's too difficult to access for their 6-foot frames that would easily be entered by their children, so let them evaluate how difficult it is to fold and slide seats, get in and out," he said.
Performing a mini stress test along the test drive should be a friendly exercise, and it will show your salesperson that the process is as important to you as the purchase.
"Plus, 'We're going to go home and discuss this as a family' makes a great reason to get out from under the dealer's manipulation tactics," Chanduwadia said. Happy hunting.