The Taga 2.0 Is The Family Cargo Bike That Will Replace Your Car
It's even got a tray table for the kids.
by Dave Baldwin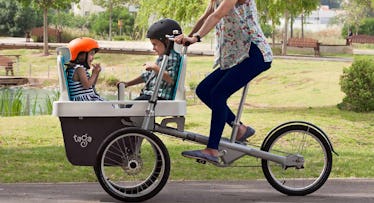 Admit it, you read about IKEA's new commuting bike, realized you could attach that sexy Scandinavian sidecar for kids, and immediately jumped on Craigslist to sell your Kia. You're sold on a family bike! But before you start eating your meatballs with an Allan wrench — not to mention pricing out a separate 2-wheeler, carrier, and trailer — the crew behind the popular Taga bike-stroller wants you to check out their latest all-in-one, kid-carrying creation.
Essentially, Taga's taken its foldable (and super stable) 3-wheeler with disc brakes/separated handlebars and outfitted the front with a hard plastic cargo compartment. Which, honestly, doesn't sound like that big a deal at first until you realize there's not one, but 2 foldout seats inside. And they're configurable so that the kids (up to age 8) can face forward, backward, or stare aggressively at one another. The seats rock adjustable headrests and colorful cushions, and there's an accessory bar to attach cup holders, a tray table (more peanuts, sir?), and even a water gun so they can ambush passing pedestrians. For the record, you can also add a third seat to the back of the bike, should you be in possession of an additional child.
Or, if you just want to soothe a single screaming 6-month-old with a lovely ride through the park, the 2.0 not only accommodates an infant carrier, but the seat reclines and there's a baby cushion for added support. To help muffle the cries and protect said infant from the elements, there's also a fully enclosed, snap-on canopy with windows. Seriously, Taga has pretty much thought of everything. Of course, the box also locks (seats down, so you know your kids aren't inside) to prevent somebody from stealing your beer and/or groceries.
And finally, if you love the idea of riding a family bike, but still aren't sold on pedaling the kids all the way to Kansas to visit your folks, fret not. Taga sells a simple kit that turns the 2.0 into a fully electric bike, and one that probably has as much HP as that Kia you're selling on Craigslist.
(Starts at $799, Pre-order for April)