The Best Toddler Tablets Are Packed With Educational Games and Can Survive Anything
It's learning, disguised as fun and games.
by Jon Gugala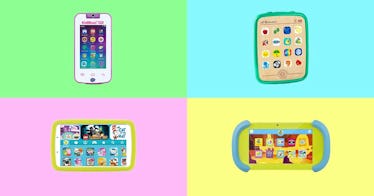 Sure, you may have been content as a child with a bat and ball, but for youngsters growing up today, a toddler tablet might as well be his or her right hand. (Hell, it's probably your child's left hand, with the right swiping and tapping away.) Whether parents like it or not, the internet is an inescapable part of preschooler lives, and since you can't cram that genie back in the bottle, you might as well harness these devices' unique captivating powers. Therefore, when selecting a toddler tablet, pick one with a learning component. Lucky for you, when it comes to these learning tablets, they've been packed full of robust features to give children a bump in education while also including built-in tools to protect tender eyes from unsavory content. (That's especially valuable, since remote learning, in some form or another, is a reality for most pre-k kids these days.)
When choosing a tablet for your toddler, it's important to get one that's age-appropriate and easy to use. A 1-year-old doesn't need an iPad (or even internet access, for that matter). You don't want to invest a ton of cash in something that will be thrown around in the car or go missing during a sleepover at grandma's house, yet you want something that will survive myriad drops, falls, and kicks. Pre-installed learning games are a huge bonus. Most of all, if you get a WiFi-enabled tablet, you want a one that has parental controls, so you can monitor if they go online and which sites they see, what games they're playing, and how much time they spend doing both of those things.
Every parent handles screen time differently and it's worth noting that the American Academy of Pediatrics recommends that children ages 2 to 5 have no more than one hour a day of screen time and that the hour be limited to high-quality programming. These modern preschool tablets for toddlers disguise STEM learning, reading, and even music in packages and apps that your children will love. As such, they're a great way of imparting foundational learning by way of fun and games.
Every product on Fatherly is independently selected by our editors, writers, and experts. If you click a link on our site and buy something, we may earn an affiliate commission.
The Best Tablets for 1-Year-Olds
The Best Tablets for 2-Year-Olds
The Best Tablets for 3-Year-Olds
This article was originally published on