This Affordable Teardrop Trailer Is The Tow-Behind of Our Dreams
Best part, the dinette converts to a second bed for the kids.
by Dave Baldwin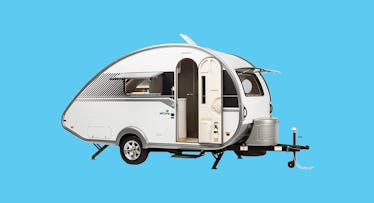 Few vehicles inspire a sense of wanderlust like a camping trailer. Not only do they hold everything an adventurous family needs to tackle the great outdoors on a whim ⏤ just patiently waiting in the driveway ⏤ but they're easily towed by any old Camry or SUV. Even better, when compared to a full-sized camper or RV, they won't break the bank. Tow-behind trailers make camping, in a word, accessible. And the latest to inspire prolonged bouts of daydreaming about said camping accessibility: T@B Teardrops.
Made by nüCamp RV in "the heart of Amish Country" (Sugarcreek, Ohio), T@B trailers reintroduced themselves last year with the new T@B 400. A larger more family-friendly version of the company's 320 model, the innovative teardrop measures 14-feet by 6-feet and has a dry weight of 2,690 pounds. It's about three-feet longer/1,000 pounds heavier than the 320 but that extra length doesn't go to waste ⏤it includes a three-person dinette that converts to a second sleeping area so there's plenty of room for the kids. It also offers almost seven feet of interior headroom.
RELATED: The 6 Best Travel Trailers You Can Buy For The Cost of a Kia
While the 320 and 400 share a number of common features ⏤ including a queen bed with storage underneath, A/C, glass-top two burner stove, real-wood cabinetry, and a heat/hot water system ⏤ the 400 takes it up a notch. It comes standard with a monster front picture window, stargazer window over the bed, a 24-inch TV, 2.7-cubic-foot fridge, and wet bath with pull-down sink and heated floor.
Both models are available in one of two colors (gray or white) with five accents and in one of two packages: the rugged Boondock for more off-road camping (Yakima Roof Rack, off-road wheels, and cargo netting) and the Sofitel for style. It includes polished aluminum sidewalls, upscale cabinetry, and yacht-styled flooring, among other more high-end amenities.
The T@B 400 starts at $31,000 while the base 320 runs $19,000 on sale. Although for families looking for something even cheaper, albeit smaller, nüCamp RV also sells the T@G teardrop. It's only 6.5 feet long fender to fender, weighs 1,046 pounds, and has an MSRP of $18,186 but can go for low as $14,000 depending on the sale/model.