'Swoveralls' Are the Sweatpant-Overall Combo You Never Knew You Needed
There's even a giant bib pocket on the chest for a bottle of beer, um, milk.
by Dave Baldwin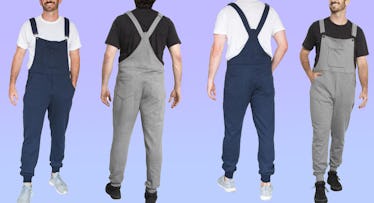 The Great Fantastic
Don't look now but somebody just one-upped the Snuggie, the cozy sleeved blanket that once took the nation (and late-night TV) by storm. They're called Swoveralls, and they're a combination of two things you never wear ⏤ sweatpants and overalls for men and women ⏤ but are going to want to on lazy Sundays. Maybe? In any case, they'll come in handy when you want to dress up as a train conductor to make your kid happy but also want to stay comfortable.
RELATED: The History of Dad Clothes, From Dad Jeans to Cargo Shorts
The brainchild of NYC fashion buyer who plays on the Israeli Men's National Lacrosse team, Swoveralls by the Great Fantastic (link) are: a) not a joke, b) overalls for women and men made of a super soft 100 percent pre-washed terry cotton; and c) billed as "functional, cool, and extremely comfortable."
Swoveralls look it, honestly. The overalls for men rock a zip fly, deep front and rear pockets, elastic jogger cuffs, and snap closures on the sides. They come in two colors, blue and gray, are a nice addition to your weekend wardrobe/alternative your Sunday sport pants. Why take the kids to the park wearing a full Sweatsedo when you can don a comfortable pair of Swoveralls instead?
Listen, people love to mock dads for how willing they are to trade style for comfort and utility. There's a reason cargo shorts, dad jeans, and the Nike Monarch are so damn popular. The beauty of the Swoverall is that you don't have to make that tradeoff. Also, there's a giant bib pocket square on the chest that can hold a can of beer, maybe a bottle of milk. Don't underestimate the power of the urban overall.
Swoveralls run $85 a pair and are currently available in large and XL on Amazon, although medium and XXL should be online by early next month. Along with a version for women dubbed the "Dudette." Hopefully, a pair for kids is in the works, as well. That said, don't fret if you usually wear a medium. Thanks to the adjustable straps, if you stand between 5-foot-8 and 6 feet, the large should fit just fine.
This article was originally published on