The Dojo Battle Set Is Next-Level Laser Tag, With Swords
Sounds crazy, but it's crazy fun.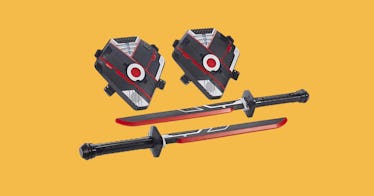 Kids love laser tag. Kids love sword games. Combine the two, and you end up with one of the most insanely fun sword fighting games we've found this year.
That's because parents know that if two kids find sticks in the woods, odds are better than good that they'll end up whacking away at each other with them, imitating whatever medieval swordfight or Lightsaber battle they last watched on television. It's a natural impulse, and the Dojo Battle Electronic Battling Game is a high-tech way to indulge it.
The Dojo Battle comes with two swords and two wearable chest pieces, each with a "Ninja Strike Sensor." To play, kids simply fire it up and whack away.
The chest pieces make battle sounds and light up, so they'll know when they've scored a hit. And if someone tries to play dirty and sneak a score with an arm, leg, tennis racket, or chicken finger? The sensor won't register it; only the official sword can activate the chest piece.
Two discs of different colors also come with this kit, so in battles larger than two (you can play with up to 12 players, or six kits, at a time) it's simple to tell who is on which team.
But what's it like to actually play with them? Pretty fun, in our experience, once you pick up the six required (but, sigh, not included) AAA batteries.
The swords themselves are quite soft, so stray blows to the arms and torso aren't too rough. They're light and easy to whirl around Syrio Forel-style. The chest pieces are also light, but they seemed to absorb some adult-level blows quite easily.
All in all, the experience is like a combination Nerf battle-laser tag match-and Renaissance Faire. In other words, it's fun as hell.
But the biggest question when it comes to a toy like this is whether or not it's safe. If you have a particularly aggressive kid whom, if you give them this toy, will start whacking everything that moves, the answer is probably no. If not, then we think it's a fun way to let them slash it out with each other.
Every product on Fatherly is independently selected by our editors, writers, and experts. If you click a link on our site and buy something, we may earn an affiliate commission.
This article was originally published on