SwapBots Are Action Figures That Come To Life On Your Tablet
Thanks to augmented reality
by Liz Newman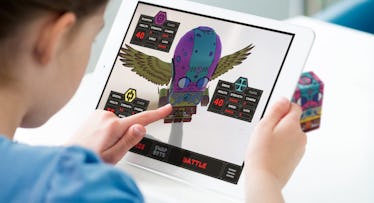 Pokémon aren't real, and Pogs aren't coming back. SwapBots, on the other hand, combine the best of both. They're real, tangible collectible toys that come to life virtually thanks to augmented reality.
In the real world, SwapBots are blocky-characters one pieces together by stacking a series of three cubes — each of which has a head, body, and feet — on top of one another. There are 9 Swapbot sets that allow for 700 character combinations. And honestly? They look kinda lame.
But scanned with a tablet and thrust into the augmented reality world with the SwapBot app, the creations come alive in 3D. There, players can challenge other creators, stomp around, unleash digital problem-solving skills to overcome new obstacles, or just get creative.
Here's where it gets addicting. Each of the 700 possible combinations used in the real world leads to a specific set of skills in the augmented one: some characters can fly; others lob projectiles. And each comes in handy for a specific mission. Meaning? Your kids are probably gonna try to catch 'em all.
Because all of the action takes place virtually, the only cost to you is the bots themselves. They run about $20 for a three-pack on Kickstarter. And there are no in-app purchases so your kids can't make it virtually rain paid upgrades on your very real account. (Pre-Order for July 2017)
This article was originally published on