Survey Says: This Is What Dads Really Want For Father's Day
It's all about the experience.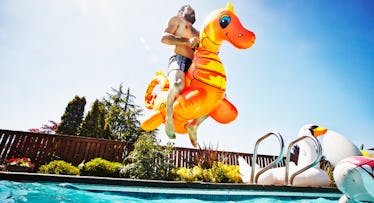 This article was produced with our friends at DEWAR'S, who celebrate the entrepreneurial, adventure-embracing spirit of fathers everywhere.
Dads value presence over presents. Of the more than a thousand fathers who responded to a recent Fatherly survey, an overwhelming majority said they prefer quality time with their children to gifts. That's not to say tie boxes will go unopened this Father's Day, but it does underline that the annual celebration has become the perfect excuse to both celebrate dad and do something different
If Father's Day was once an opportunity to celebrate a provider, it has evolved into a celebration of relationships and the perfect occasion for family members to help an overly scheduled dad get weird.
Delayed Gratification
The vote for experiences over things was a true mandate: Some 81 percent of fathers said they'd forego headphones or new workout gear for a chance to hang out with their loved ones, specifically their partner. The most popular proposed Father's Day plans all involved having a night away from the kids for some adult fun. The idea of seeing a band or a game was slightly more popular than the idea of staying in a hotel suite, which narrowly beat out test driving a racecar and going out for a steak dinner (pro tip: It's all about the sides). Overall, fathers expressed an extreme eagerness to take a break from routine.
For those looking to make dad happy, that represents a bit of a puzzle. It's easy to understand a person's routines and buy gifts accordingly, but difficult to understand how they might choose to deviate. Sure, tickets to a show would be great, but what show? Great question. Don't answer it. The workaround is to embrace the stay-at-home, chill Sunday Father's Day (more than 70 percent of respondents said they'd like to spend part of Father's Day at home) and plan to get the guy to a festival in the not-too-distant future. It's hard to go wrong if you stick to city-centric jams like Hardly Strictly Bluegrass in San Francisco, Pitchfork Festival in Chicago, and Made In America in Los Angeles, but there's no need to limit it to the music circuit. The West has rodeos. The Northwest has beer festivals. The Southeast has college football.
There's nothing wrong with giving dad something to look forward to; there's also nothing wrong with giving him a bit of a push? Don't know if he'd be into a hot sauce festival? Well, there's only one way to find out. No one hits a home run with a bat on their shoulder.
Getaway Driver
Given that dads were, broadly speaking, looking to mix it up, it's not surprising that many fathers were down to take a trip. But the strong preference among respondents was to keep it simple. Almost half of the fathers surveyed expressed interest in heading to a cabin in the mountains or the woods. And, fortunately for gift givers and planners alike, those trips have gotten way easier to plan thanks to sites like Airbnb and VRBO as well as less known cabin booking tools like Getaway, which operates modernist retreats at locations within two hours drive of major cities that get revealed on a rolling basis. Will they be busy for Father's Day? Yeah, they're all booked out. But there's wiggle room in August and September. Get it on the calendar.
Alternatively — or additionally for families looking to go big — plenty of car trips would satisfy paternal wanderlust. Some 21 percent expressed interest in scoping out a national landmark while eight percent expressed interest in wandering through a big city. Those can be day trips depending on the nature of that drive (country-to-city or city-to-country), but the critical thing is to have them scheduled so dads can get excited and prepared for a weekend off.
And then there's the small matter of whether or not to bring the kids. That's a case-by-case situation, but it's important to remember that dads are generally eager to take a night off — not more. Those opting to book international trips or, frankly, anything requiring an airport, would do well to plan on bringing the kids.
Go Big and Go Home
When it came to gifts, the minority got even smaller. Only 15 percent of fathers had any interest in a new watch and less than 10 percent said they'd want a new suit or a fresh pair of sneakers. The more popular gifts were the sort of presents that lead to a shared experience. To that end, smart gifters who want to go big would do well to do that in the most literal sense of the word, leaning towards family tents, workout equipment, yard games, and grills.
The biggest big gift this year? That would be stock tank pools. The Instagram-friendly metal cisterns, historically used to keep cattle hydrated, are popping up across the country. Think of them as above-ground pools for people who value a good-looking backyard — and also think of them as a project. Dad and the kids can work on the installation, which is no easy task, together, then spend summer enjoying the fruits of that labor.
It's like a jungle gym, but Dad can use without fear of breakage, splinters or hospitalization.
But just because there's a cool new trend doesn't mean the classics don't play. The classics definitely play. Given a ton of options, some 40 percent of fathers expressed interest in a new grill, grill tools, or a stack of steaks. And it's no wonder why. Taken in aggregate, meat and fire generally mean get-together. And dads dig a low-key party.
Need proof? More than 60 percent of fathers who expressed interest in being given a good bottle of whisky wanted to drink it with loved ones or friends. Dads, it turns out, are excellent at sharing. And they get that sharing is ultimately what Father's Day is about, whether that means sharing the parenting experience with friends, an adventure with the family, or quality time with a partner.
Dads don't drink alone. Cheers.
ENJOY RESPONSIBLY.
©2017. IMPORTED BY JOHN DEWAR & SONS COMPANY, CORAL GABLES, FL.
This article was originally published on