The Inexpensive Superscreen Turns Your Smartphone Into An HD Tablet
Ditch your tablet forever.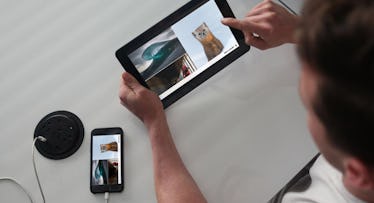 If you've ever found yourself handing a 2-year-old a $900 iPhone so that you could send an email (or make a phone call, or quietly stare at a wall…#nojudgement), you realize that you're taking a huge risk. Their tiny grips are tenuous, at best. But what if you could fire up Dinosaur Train on your phone and then stream it to a cheap $99 tablet for them to watch? Problem solved, right? Well, that's Superscreen.
Designed to keep you from buying a separate iPad (either for yourself or your kid), Superscreen is a 10.1-inch HD touchscreen that turns your smartphone into a full blown tablet by wirelessly mirroring whatever's displayed on the screen. All you do is download/fire up the app and turn on the Superscreen — they'll sync automatically and you're good to go. You don't even need a separate data plan or paid contract, as it uses the Wi-Fi and cellular connection from the host phone.
Superscreen works with both iOs and Android, measures 9.5-inches by 6.8-inches (.31-inches thick), and comes tricked out with stereo speakers, Bluetooth (for headphones), stylus support, and 2 HD cameras (2MP front, 5MP back). The battery runs 12 hours on a single charge, and it has a reported range (with no lag or drag, mind you) of up to 100 feet — so unless you live with Redman, you can still leave your phone in the kitchen and read Fatherly.com on the deck.
Here's the deal, though: It's only $99 on Indiegogo for a limited time (they asked $50k and got a $1 million, by the way). After that, the price jumps to $299, although it will still come with a handy neoprene carrying case. And for that money, well, you have to start thinking about whether a cheap tablet for your weak-gripped kid is the better call. Up to you. (Pre-order for December 2017)
This article was originally published on