Deal Alert: Summer Infant's 'Color' Video Monitor Is Only $52 on Amazon Today
Do you 'need' a color video monitor? Well, no. But for $52, why not?
by Dave Baldwin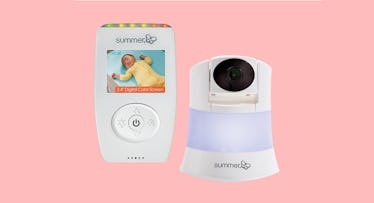 Few gadgets bring as much peace of mind to new parents as a video monitor. Being able to see a baby sleeping, especially when they should have woken up from a nap 20 minutes ago, is incredibly reassuring. It doesn't matter that the screen is tiny, or in black and white, it does the job just fine. But… what if you could see your adorable snoozing newborn in color for only $50 ⏤ much less than most B&W monitors ⏤ it would make sense, right? Well, today you can. Summer Infant is unloading its Sure Sight 2.0 Digital Color monitor on Amazon for almost half off, only $52.
Regularly $100, the Sure Sight 2.0 comes with a 2.4-inch color LCD video display that automatically switches to B&W night vision in the dark ⏤ so you get the best of both worlds. It has a range of 800 feet, eight hours of battery life, 2x zoom, and a row of sound-activated LEDs across the top that light up when it detects crying or nursery noise, so you can leave the volume turned down while you're watching TV.
The camera, meanwhile, doesn't pan but can be wall mounted or positioned on a table to ensure you capture the full scene. It does, however, feature a soothing gentle blue night light that can be turned off remotely from the handheld. Plus, you can add up to three additional cameras so you can see the whole house, and not just your baby, in glorious color.