Video Review: The Babble Band
All the pros and cons before you enter your credit card info.
by Dave Baldwin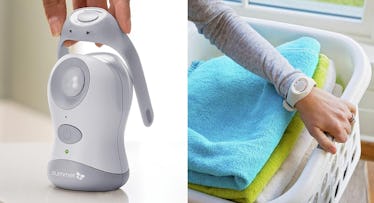 Looking for all of the Best Baby Gear of the Year, from jogging strollers to baby carriers? Click here.
If Dick Tracy popped out a couple of kids (and who wouldn't with 90s-era Madonna), this would be his 2-way wrist radio. The Babble Band from Summer Infant is an audio baby monitor that's worn like a watch and designed to help parents keep tabs on their kid while trying to get things done during nap time. Even if those 'things' are called playing Fallout 4. Here's what the reviewers thought of it:
Pros:
Babble Band owners are taken with this thing because it's easy, lightweight, and according to one reviewer "allows mom and dad freedom to move from room to room without losing contact with the baby." You also don't have to wear a traditional monitor clipped to your belt buckle — because wearing tech on your belt hasn't been cool since … ever.
The "vibrate" and "light only" modes alert you to your baby's cries with either a vibrating buzz or a flashing light. So you no longer need to keep one ear trained on the monitor while you binge watch Stranger Things.
Other than the initial 4-hour charging period, it comes ready to use straight out of the box. No setup required. "You simply plug in the baby unit, turn on the band, and you're ready to go," writes Pregnancy & Newborn Magazine.
P&N also notes that with only two big buttons, one on the band and the other on the monitor unit, it's easy to use and seemingly "made for the bleary-eyed parent."
Cons:
While its wireless charging feature was a plus (no cords!), Amazon customers were frustrated by the fact they had to be in the same room as the baby to actually charge it; the charging station is built into the unit itself.
Similarly, as "the band only works for 8 hours and then requires 5 to 6 hours to charge" many users found it difficult to use at night since their babies were out-sleeping the battery. Honestly, they probably shouldn't be allowed to complain about that, but we can understand the annoyance: You didn't just finally get your kid to sleep through the night only to be woken up by a damn beeping of a dead battery.
Range appears to be a big issue with many reviewers, most noting that it doesn't work well if you stray too far from the baby's room. "This product claims to have a working range of 800 feet but in reality it only goes less than 100 feet," wrote one. Adds another: "Be aware that 60-70 ft is about all you can reliably expect out of this."
And as anybody who's been to a concert knows, if you point a microphone to the monitor in their room, you'll get screeching feedback. Then the baby's awake, defeating your need for a baby monitor. This seems to be a problem when users walk too close to the monitor.
This article was originally published on