Sugru Is Like If Duct Tape And Play-Doh Had A Baby And It Fixed Everything
Think of Sugru as duct tape 2.0, repairing and improving things around the house while rehabbing broken toys and making forgotten ones new again.
by Fatherly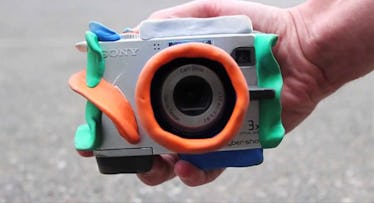 <a href="https://sugru.com/tech-gadget/how-to-make-an-awesome-bouncy-kids-camera" target="_blank"> Sugru</a>
There was a time when a basement workbench and tool box could fix a lot in the average home. But hammers and nails don't go very far with the injection-molded plastics and tiny circuit boards found everywhere from our dishwashers to our action figures. Because we're increasingly unable to fix or improve the things we buy, our kids learn that "broken" = "replaced" and "old" = "boring," which is why Sugru is such a revelation. It's a clever silicone that is moldable out of the package before curing overnight into a flexible, waterproof, insulating material that adheres to almost anything. Think of it as duct tape 2.0, repairing and improving things around the house while rehabbing broken toys and making forgotten ones new again. Sugru costs $12 for a 3-pack, $22 for an 8-pack, and is available on their site, which is loaded with instructions and ideas. Here are 8 examples, all of which will fix your reputation as a someone who can't fix anything.
Repair A Broken Action Figure Arm
The example video is specific to Buzz Lightyear, but the technique will work on just about any articulating shoulder, from Darth Vader to Dora The Explorer.
Kid-Proof A Point-And-Shoot Camera
This hack will work with all sorts of electronics (including your phone), but a point-and-shoot provides you with a fascinating, kid's-eye view of the world. Yes, your knees are weird-looking.
Make Any Toy LEGO-Compatible
How many metric tons of random LEGOs do you have around the house? What about discarded or otherwise forgotten toys? Your kids don't realize it yet, but these two things are a match made in heaven – it's time for the LEGO men to ride the dinosaurs.
Insulate The Oven Door With Clear Plexiglass
You can have the plexiglass cut to measure at any major hardware store. Affix it with a few strategically placed pads of Sugru, and the air that circulates between the plexiglass and the oven door ensures a toddler won't get burned while overseeing the cookie baking.
Secure Baby-Proofing For Sharp Corners
Foam corner pads are ugly and hard to keep in place, and they're only useable on specific kinds of furniture. Meanwhile, your kids can puncture a forehead in any number of places around the house. Sugru can be color mixed to match most surfaces and won't fall off.
Protect Bathrooms From Piss Poor Aim
This simple fix will customize the front of a potty training seat that may have fit a young girl just fine, but lacks the height necessary to account for a young boy's lack of … aim. Everyone knows aim comes later.
Patch Clothing Without A Sewing Machine
Maybe you're a wizard with a sewing machine; or maybe you're like most people and find them confounding. And iron-on patches are good for one trip through the laundry, tops. But sealing a patch into place? Piece of cake.
Turn Their Toothbrush Into A Sword
If the concept of a toothbrush seems to be lost on your kid, it may just be a matter of context. After all, a bedtime ritual aimed at polishing teeth is far less interesting than one aimed at, say, vanquishing mouth dragons. With Sugru, you can turn a tooth brush into pretty much anything with handle – in this case, just disarm Jack Sparrow and you're good to go.
Finally, Just In Case You've Gone A Little Overboard …
… Here's how to remove Sugru.
This article was originally published on