The Colugo Compact Stroller Is a Fast Folding, Feature-Rich Stroller City Parents Will Love
The new stroller is well built, feature-rich, and extremely well priced for all the features that it offers.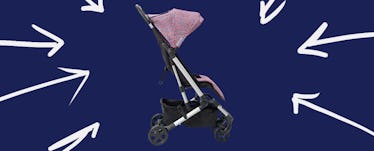 Ted Iobst became a dad to twins while pursuing his MBA at Wharton School. As he entered fatherhood while attending this famed business incubator,it was only natural that he started to look for soft spots in the parenting gear industry. Pretty soon, he started paying attention to one area in particular: strollers. Shopping for one was supremely frustrating. There were so many models spread across so many price points, and so many special features that some had and others didn't. He soon realized that many models were so exorbitantly priced because of markups from third party sellers.
All this made him wonder: What might a Warby Parker of strollers look like? That is, a digitally-native company that made a great stroller equipped with the features parents want but sold it directly to parents at competitive price? The answer to that question is his new company Colugo, which launched in October with two products, one of which is a compact, portable single stroller intended for urban parents. After testing it, we can say that the Colugo Compact Stroller, which retails for $285, is, in terms of price and features, one of our favorite new compact models on the market.
It's clear that Iobst and crew built the stroller with city parents in mind. The Collugo stroller is meant for weighs a manageable (and competitive) 16 pounds. It can be opened and closed with a swift one-handed motion (ideal when you're holding a baby in the other) and breaks down into a compact package that's simple to slide under a couch when not in use. It has a shoulder strap, for easy carrying, comes with a UPF 50+ sun shade, removable, machine washable outer layer (there are a variety of patterns available, including camo, floral, navy, lavender, and black), and rain cover — the latter of which is rare addition with strollers and stows in a small pouch that attaches to the handlebars.
Designed for kids six months and older who weigh less than 55 pounds, the stroller is sturdy, smooth rolling, and genuinely easy to maneuver. It has no-puncture tires that swivel well and are capable of rumbling over a variety of city terrain. There's also a genuinely large storage basket that, among other things, fits your, or the sold-separately Colugo, diaper bag. Another nice perk: The handle bar cover that, unlike those made of foam that so many similar strollers have, is far more durable and less likely to get scuffed or torn.
One reviewer, used to using a BabyZen YoYo, praised many of the Colugo stroller's features, including the sturdy build, large pulldown canopy ("it's nice and wide, but doesn't block the child's line of vision), and how truly easy it is to open and close one-handed ("it's very easy to do; plus, it happens without the wheels getting all twisted"). Another reviewer offered the same praise, adding that the stroller lays flatter than most, which allowed her kid to lay back and nap with ease on morning walks. They also said that it's extremely sturdy, and didn't ever feel off balance or worrisome even when their toddler was bouncing from side to side.
In terms of negative feedback, some reviewers noted that there's no mesh pocket on the back of the stroller (something that could have easily been added), while another noted that the brake is easy to accidentally engage which can lead to some abrupt halts on morning walks. Finally, they both added that the harness buckle, which should be simple to snap closed while your child is wriggling around, isn't.
Still, all reviewers said that, despite the flaws, they would wholeheartedly recommend the Colugo stroller. It's well built, feature-rich, and extremely well priced for all the features that it offers. There are few compact urban strollers at this price point that can match it.
This article was originally published on