Stockpile Lets You Give The Gift Of A Company's Stock Shares
by Dave Baldwin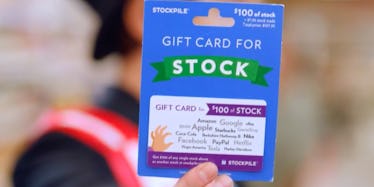 Sure, it's easy for a guy like Warren Buffett to peel off a few hundred million to give to his kids and grandkids, because his investments have netted him almost $67 billion (with a "B"). Your investment holdings are — what's the word? Less than that. But it doesn't mean you can't start them on the frustrating and unpredictable road to investment. Instead of giving kids toys that only provide minutes of enjoyment, Stockpile lets you buy stock in major companies that will give them decades of dividends (not FDIC insured).
RELATED: Apps to Save Mad Money on Toys, Kids' Clothes, and Baby Gear
You have two options: Buy a traditional card designated for a specific company (worth $25, $50, or $100, plus fees) at the local grocery store. Or, go online and browse through over 1,000 different stocks/indexes by ticker symbol or category ("sports," "fashion," "military-industrial complex") and buy an e-gift for any amount between $1 and $1000 (again, plus fees). They never expire and the gift value remains the same until the recipient redeems the stock online by setting up a brokerage account with Stockpile. Once the account's live, the stock value can fluctuate like a toddler's mood. Your junior investor can also buy or sell more shares at 99 cents a trade.
If your kid loves the idea of investing in their future, but doesn't believe in the future of plastics, they can trade their gift card in at no charge for any other company. The hot tip on the playground is there's a pharmaceuticals company that almost has a cooties vaccine approved.
Stockpile ($1 to $1000, plus fees)